HELENA, ALABAMA - Carpet, Floor and Upholstery Cleaning Services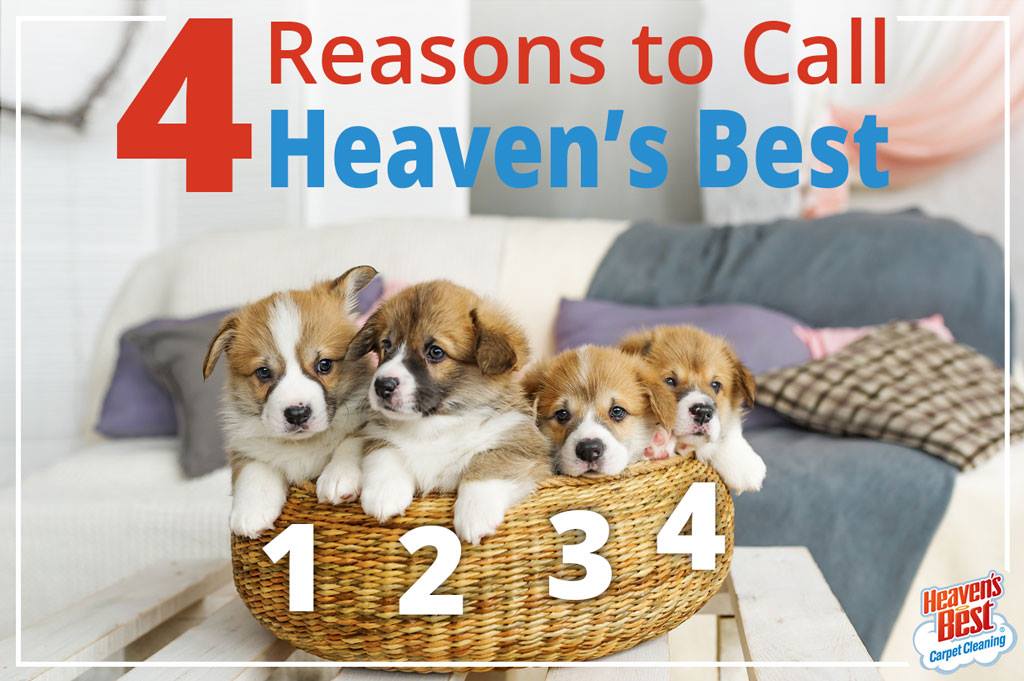 Pet Stain Removal, Professional Carpet Cleaning Company, Commercial Carpet Cleaning, Upholstery Cleaning, Hardwood Floor Cleaning and More in Helena AL
If you have 4 puppies or just 1 puppy, you already know why you need Carpet Cleaning Services in Helena AL. But, there are some other great reasons why you may want to call Heaven's Best Carpet Cleaners to help clean your carpets or floors in Helena Alabama. At Heaven's Best, we take great pride in our cleaning services and that is why we strive to live up to our name "Heaven's Best" every time we clean. Here are 4 more reasons why you should call Heaven's Best to clean your carpets, upholstery or floors.
Low-moisture Carpet Cleaning Process - Heaven's Best uses less water when we clean, so your carpets will dry fast, in about 1 Hour. You should not have to wait days or even hours for your carpets to be dry. If you call Heaven's Best you won't have to!!!

All Natural, Citrus-based Cleaning Solutions - Heaven's Best Cleaning solutions are unique to our Franchise, and they are all-natural, citrus-based. They are strong, but safe. They will thoroughly clean your carpets or upholstery but are safe for you, your children, your pets and the environment. Along with being safe, they smell GREAT! Your entire home will smell clean and fresh after a Heaven's Best Carpet or Upholstery Cleaning.

Great Rates - Because we are a small family run company, with low overhead, we are able to provide Excellent Low Rates. You will find that our superior service plus our low rates make us the best value for your money throughout the Helena, AL area.

Free Citrus Deodorizer - With all our Carpet or Upholstery Cleanings, we offer our FREE Orange/Citrus Deodorizer. So not only will your carpets and upholstery be clean, but they will smell great also. Other companies charge extra for Deodorizer; not Heaven's Best! We give you the best value Carpet Cleaning in Helena Alabama.
Along with specializing in Carpet Cleaning, Heaven's Best also cleans Upholstery, Hardwood and Laminate Floors, Engineered Hardwoods, Tile and Grout, and Commercial VCT Tile. We also clean carpeting at businesses and offices throughout Helena. Our low-moisture process is superior to other types of cleaning, especially for commercial carpets. So, if your business or facility carpets are looking dull and dirty, it may be time to call the Professionals at Heaven's Best.And if you have any upholstered furniture in your office or home, don't forget to have them cleaned. Office chairs and sofas in waiting rooms can get rather dirty and should be cleaned at least once a year depending on how much traffic you get. Heaven's Best cleans most upholstered furniture, including sofas, love seats, club chairs, ottomans, dining room chairs, office chairs, sectionals, and even mattresses. We have 2 processes, a Water-based Cleaning and a Dry-Clean Only Cleaning. Some designer upholstery is made with fabrics and down filling that require they be cleaned using only Dry Cleaning solvent. Not to Worry! We at Heaven's Best can clean these items.
If you have mainly Hardwoods or Engineered Hardwoods in your home or office, Heaven's Best has you covered. We can clean Hardwoods with a cleanser specifically made for Hardwoods. Then, we take our heavy duty Buffers and we Buff out your floors. Finally, we apply a protective coating to help them stay clean longer. You can choose from a High gloss, Shiny Finish, or a Low gloss, Matte Finish. We will make your floors shine again. If you are putting your home on the market to sell, having your hardwoods cleaned and polish can give your home the extra "pop" it may need, to sell fast. Give Heaven's Best a call for a FREE QUOTE. We can give you a Rough Estimate over the phone, and can send out a technician to measure and give you an Exact FREE Quote.
Don't forget about your Kitchen and Bathroom Tile. Heaven's Best can also professional clean Tile and Grout to bring it back to its original color. After scrubbing your Grout lines, we apply a Grout Sealer to help keep them clean longer.
AIf you are still unsure, you can stop worrying, because Heaven's Best not only offers Superior service, but we back it up with our 30 day Warranty. If a spot come back, so do we! If a spot or stain return within 30 days of a Heaven's Best Carpet Cleaning, we will come back and clean it for Free. No questions asked. You have nothing to lose! Call Heaven's Best now at (205) 739-1880 to schedule a Carpet, Upholstery, Hardwood or Tile Cleaning in Helena Alabama. We look forward to cleaning our neighbors in the Helena, AL area.
Heaven's Best Carpet Cleaners service all of the Helena Alabama area
Call us Today to Schedule a Professional Carpet Cleaning, Hardwood Cleaning or Upholstery Cleaning
(205) 739-1880