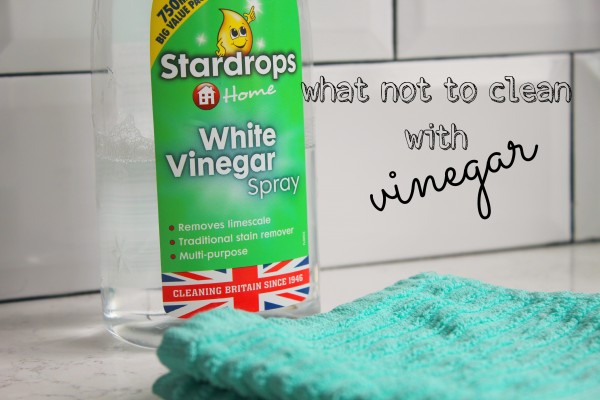 Vinegar is a very useful and inexpensive product to have around for the purposes of cleaning but there are some items and surfaces which should not be cleaned with vinegar. This article provides what not to clean with Vinegar in Birmingham, AL. We, at Heaven's Best Carpet & Rug Cleaners often talk about the excellent properties of vinegar as a cleaner and disinfectant for many surfaces including carpets.
Vinegar is comprised approximately of 5% acetic acid and 95% water. Because of its qualities Vinegar can be used as a disinfectant, as well as a cleaner. The high acidity level of vinegar helps loosen mineral deposits, such as lime and rust, and dissolve soap scum due to their alkaline nature, so it is great for bathrooms, bathtubs, showers, and sinks. It is also useful in the kitchen for cutting through grease on ovens, cooktops, stoves, and grills, and it easily strips wax build-up off of wood floors. In addition, a vinegar soak helps remove stains, such as coffee and tea, from kitchen sinks, cups, and coffee makers. It is also useful for deodorizing and removing kitchen and bathroom odors as a simple spritz of a vinegar-water solution will prove. And it is often added to the laundry rinse cycle as a softening agent.
But there are some places you should not use vinegar. Here are a few areas where you do not want to use Vinegar:
Granite/Marble/Quartz
The first thing the guy who fitted our quartz kitchen worktops said to me after I paid up the (stupidly large amount of) money was "don't EVER use that to clean quartz" whilst pointing at a spray bottle of white vinegar sitting in our sink. The acids in the vinegar can permanently damage granite, marble, quartz and similar products. That would be a very expensive mistake to make, so avoid at all costs.
Egg
Don't clean up egg with vinegar! If you're a fan of poached eggs you'll know vinegar causes the egg to coagulate and it will do exactly the same without boiling water and a hob too. Vinegar will make cleaning up a split or splattered egg much more difficult.
Waxed floors or furniture
The acidity will dull the shine and strip away the protective wax over time.
Car
Much like waxed floors or furniture vinegar's acidity will dull the shine of your car. Keep it well away. Metallic paints are particularly vulnerable.
Smart Phone/Tablets
Your smart phone is coated with a special coating which (in theory) stops fingerprints and smudges (this apparently doesn't apply to my phone which is finger print city). Using vinegar will strip away this protective layer, potentially damaging the screen.
Stone
Be it stone flooring, garden ornaments, a surface or a stone pot the natural acids in vinegar will cause real damage to stone.
Grout
Sealed grout should be fine with vinegar but unsealed grout won't fair well with a dose of the vinegar treatment. Our tiler (you may remember this guy from this post) was very adamant that I shouldn't use my "hippy cleaning stuff" until everything was signed off by him! He also made sure to mention very old grout or sealant which shows signs of peeling or flaking away shouldn't be clean with vinegar either.
As you can see from this list, there are some items that should not be cleaned with Vinegar. So, definitely use Vinegar in cleaning and disinfecting your home, but be careful to pay special attention to what not to clean with vinegar in Birmingham, AL. And if you need help with cleaning your carpets, hard wood floors, tile and grout, or upholstery, call the experts at Heaven's Best Carpet & Rug Cleaners at (205) 739-1880. We have cleaners and equipment that is specially designed to clean different types of surfaces and fabrics. And, our rates are very affordable. So, don't make the mistake of cleaning with the wrong product, call Heaven's Best today at (205) 739-1880 for expert carpet, upholstery and floor cleaning assistance.

Contact Heaven's Best for Carpet, Upholstery and Floor Cleaning Help!