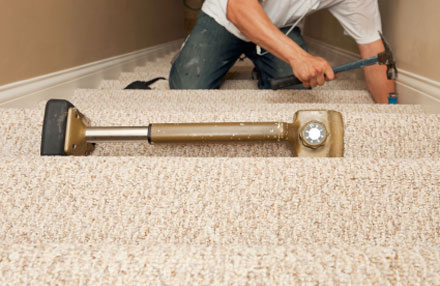 Many homeowners fear when they have to buy new flooring such as carpeting that they will get taken to the bank. It is hard to know what you should pay to get a good quality product and what you should pay to have it installed. So, what is the right price to pay for new carpeting in Birmingham, AL?
There are two main costs when you purchase new carpeting. First, you have the cost of the actual carpeting and the pad. Next, you have the cost of the installation. It can add up quick, so you need to be diligent when researching. We will look at the cost to install carpeting first.
How much does it cost to install new carpeting?
It is not unusual to see advertisements in many home improvement stores, like Home Depot and Lowe's that state that installation of any carpeting purchased in the store will be done for a fixed price, or even free. This is something that you should investigate fully before you buy. Often there are hidden fees that they may not be telling you about. These hidden fees can include items such as:
Fees for moving and returning furnishings which might add up to $2 per square yard.
Extra charges for removing and discarding pre-existing carpeting which could see the rate increase by an additional $4 per yard.
Fees assigned to the installation of "Berber" rugs which can run at $3 per yard.
Cutting charges issued when a room is not an uninterrupted rectangle or square.
So, Free might not really be Free. Make sure you ask about additional costs for installation. When added up this could mean that a fixed-rate installation of $5 per yard is actually around $18 per square yard, or more! This is the reason that contract must be drafted with the installer, and every price point identified and accepted. The average price for an entire installation of carpet should only be around $2 to $6 per square yard. So, if it considerably more than this amount, you may want to look elsewhere.
Here is an example of the cost for carpeting a standard family room that is 16'x16' or 256 square feet. For this example, we will assume there are no unusual angles or special cutting requirements.
The average costs and materials associated with this project include:
Selecting the carpet - carpeting can cost as little as $2 per square foot, or as high as $100 per square yard, but the average carpet and pad 1 will cost between $30 and $40 per square yard - for a total of around $995 for the carpeting alone. There is also the need to select a carpet pad 1 as well, and these too come in a range of qualities and styles, but most are included in the cost of the carpet.
Be wary of free padding promotions or low-cost carpet deals. You know, the ones that offer three rooms for an absurdly low price — like $99. Free carpet padding is usually cheap, thin and often results in consumers paying for an upgrade. As for those amazing deals, the cheap carpet comes with high-cost padding, installation and other extras tacked on, so the deal isn't as sweet as it seemed. Carpet padding should cost on average about $0.30 to $0.60 square foot. For budgeting purposes, add $1.00 square foot for padding and installation to get a good ballpark estimate.
Installing - for the project discussed, the family has moved their own furnishings, but has accepted the additional $4 per square yard fees for removal and disposal. With a base rate of $5 per yard, the total installment fee is $252. So, the total in this example is $1,247 ($995 for carpet & pad + $252 for Installation & removal).
As you can see, having carpet installed is a large investment. You may want to give Heaven's Best Carpet and Rug Cleaners a call at (205) 739-1880 before you take on this task. We may be able to bring new life into your old carpets, so you can put off this investment. Or, if you have newly installed carpets, you definitely want to have them cleaned yearly so you can preserve your investment. We at Heaven's Best understand that your carpet is a major investment. We are here to help you keep your investment as long as possible. So, definitely give us a call at (205) 739-1880 to see how affordable our yearly carpet cleanings are. We have the info we provided above will help you know exactly What is the right price to pay for new carpeting in Birmingham, AL?

Contact Heaven's Best to schedule a Professional Carpet Cleaning