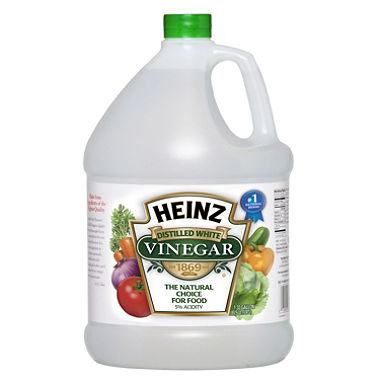 Vinegar is a great inexpensive Carpet Cleaner and Deodorizer for your home in Birmingham AL. It also has tons of other uses around the house. It is only a couple dollars for a gallon and so it is a good idea to have a bottle of this around. For cleaning always buy the white vinegar. Here are some of the fantastic ways to put vinegar to use in your home:
Lose the carpet stain. Make a paste of 2 tablespoons white distilled vinegar and ¼ cup salt or baking soda. Rub into the stain and let dry. Vacuum the residue the next day. (Always test an inconspicuous part of the carpet first.)
Deodorize carpet pet stains or odors. Mix half part white vinegar with half water and pour in spray bottle. Spray on carpet to help eliminate odors and freshen your room.
Clean and freshen up your fridge. Clean the shelves and walls with a solution of half water and half vinegar.
Brighten stained coffee cups and teacups. Gently scrub stains with equal parts vinegar and salt (or baking soda).
Eliminate odors from tall kitchen garbage cans. Swab plastic containers with a cloth dampened with vinegar.
Kill bathroom germs. Spray full-strength vinegar around the sink and tub. Wipe clean with a damp cloth.
Save a garment with underarm stains. To remove antiperspirant stains from shirts and blouses, rub gently with vinegar, then wash.
Tidy up a toilet. Pour a cup or more of diluted white distilled vinegar into the bowl. Let sit several hours or overnight. Scrub well with a toilet brush and flush.
Remove lime buildup from dirty faucets. To get rid of lime buildup, make a paste of 1 teaspoon vinegar and 2 tablespoons salt. Apply to sink fixtures and rub with a cloth.
Control static cling. Add ½ cup of white distilled vinegar to your washing machine cycle. The acid will help reduce static cling and keep lint from sticking to your clothes.
Try all these ideas for using Vinegar as a Carpet Cleaner and Deodorizer and other uses in Birmingham AL. If you need additional help with spots, stains or a dirty carpet, call Heaven's Best Carpet Cleaners at (205) 618-9150. We have professional strength spot and stain removers that will get out most any stain. Also, we offer FREE Citrus Deodorizer with all our carpet cleanings, so your carpets will look and smell great. If you haven't had your carpet cleaned in over a year, you are due for a professional carpet cleaning. Use the form below to contact Heaven's Best Carpet Cleaning immediately to schedule.

Contact Heaven's Best to schedule a Carpet Cleaning