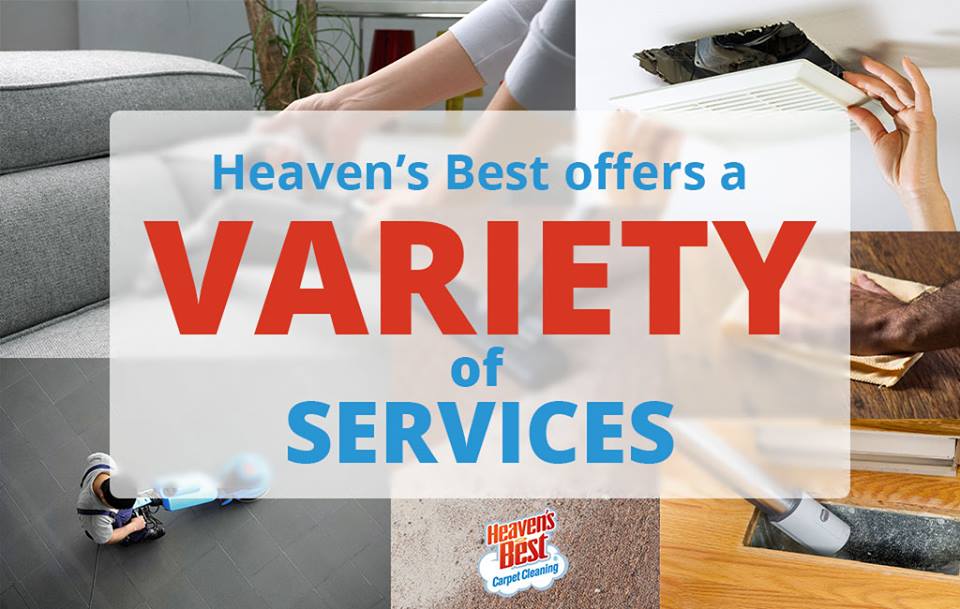 At Heaven's Best Carpet Cleaners of Birmingham, we don't just clean carpets. Did you know we offer a variety of services that will have your home, floors and even furniture looking fresh and clean! Take a look at what we offer and the variety of cleaning services in Birmingham, AL.
Carpet Cleaning: Many know us for our carpet cleaning services - Our specialized low-moisture carpet cleaning process will have your carpets looking clean, fresh and dry in about an hour. In addition to our quick drying process, your carpets won't be left sticky from chemical residues that cause your carpet to get dirty again fast. Our carpet cleaning process is also environmentally friendly and safe for children and pets.
Upholstery Cleaning: At Heaven's Best we use specially formulated solutions and unique equipment to clean all your upholstered surfaces, including: couches & loveseats, ottomans, dining room chairs, recliners and just about any upholstered surface in your home. In addition to upholstered surfaces we offer we also clean futons and mattresses.
Our trained and knowledgeable technicians take the time to determine the type of upholstery that the furniture is made of and then use the appropriate cleaning method. You'll be amazed at how quickly your upholstery dries (drying times vary depending on fabric type).
Tile & Grout Cleaning: We understand the importance of keeping your bathrooms and kitchens (and any other tiled surface!) clean and free of dirt and grime. At Heaven's Best we can tackle any tiled surface, once again using equipment and solutions specialized for the job.
Hardwood Floors: Our thorough cleaning and conditioning process used for cleaning hardwood floors will leave your floors bright, clean, and safe from wear and tear. In addition to cleaning and bringing life back to your hardwoods, we can disinfect floors to help eliminate germs and bacteria.
If you are in need of any of these services, Heaven's Best of Birmingham would be honored to be your choice for your professional cleaning needs. As you can see our variety of cleaning services in Birmingham, AL, we hope you'll give us a call today at – 205-739-1880 and schedule an appointment! We look forward to serving you!

Contact Heaven's Best to schedule a Carpet, Floor or Upholstery Cleaning