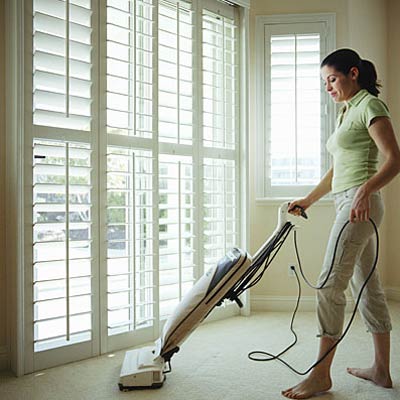 One of the easiest ways to keep your home clean is to vacuum regularly. Vacuuming is essential to keeping your carpet clean in Birmingham, AL. Vacuuming does not only keep your carpets clean, but it also keeps your entire home clean as it picks up allergens, dust and dirt that has been trapped in your carpet. But, if you do not have a good vacuum or if you are not maintaining it properly, vacuuming may do more harm than good. Here are some tips to help you make the most out of vacuuming in your home.
Replace the Bag Regularly - One of the quickest and easiest things you can do to maintain your vacuum cleaner is to replace the bag. Don't assume the bags only need to be replaced when it feels full. Often, vacuums work best if you replace the bag when it is about 2/3 full. Debris needs room to enter the bag, and if the bag is too full, it has no place to go. So, change the bag often to make your vacuuming count!
Make Sure the Bag is Properly Attached – This sounds easy enough, but with so many different brands, models and types of vacuum cleaners out there, attaching the bag may not be as easy as it sounds. While the method of attaching a bag will differ from model to model, one thing does remain constant — you need to make sure that the bag is securely fit to the nozzle. If there are hooks, holders, or clips, you'll want to firmly attach those as well.
Make sure you Buy the Correct Vacuum Cleaner Bags - In addition to attaching the bag, you also want to ensure that you bought the correct bags for your model. Each make of vacuum cleaner has so many different models, that you may accidentally get the wrong model of bag. Check to make sure you have the right one. Using the wrong bag, may mean you have dirt and dust going everywhere, which definitely does not help get dirt and dust out of your carpet or air.
Empty Bagless Models Often - If you have a bagless vacuum, it is extremely important to empty the dirt and debris receptacle often. Most bagless machines have a marker indicating when to empty the receptacle. Although this is helpful, you may want to do it more often. You may even want to rinse out the receptacle with water to ensure all of the dirt has been removed.
Clean the Brush Roller - Occasionally, you should check the brush roller on your vacuum cleaner. Over time, certain items can get wrapped around the roll and can prevent it from spinning as well as it should. These things include floss, hair, and string. You can either remove these objects while the roll is in place, or you can remove it.
Check the Belt, Filters and Hoses Regularly - After checking the brush roll, you should check the belt, which keeps the roller in place. If the belt isn't tight enough, it may be time to replace it, especially if it is stretched out, frayed or narrow. Also make sure that it hasn't slid out of place. Generally, the belt should be replaced about every year. Along with the belt, filters and hoses should also be checked regularly. Most vacuum cleaner models have filters attached to help pick up particles that may contaminate your indoor air quality. If your vacuum cleaner has a filter, you'll want to clean and periodically replace it. You can rinse a plastic filter, and shake a paper or fabric one, depending on how easy it is to remove.The importance of keeping your filter clean cannot be stressed enough. This is especially true if your vacuum has a HEPA filter, as that filter is designed to help improve your indoor air quality.Lastly, make sure your hoses do not have large objects trapped in them. If you aren't getting any suction, it may be that something is lodged in the hose.
Finally, Take your Vacuum for Repair or Replace it – If you vacuum is not functioning well, it may need repair. Or, it may be time to purchase a new one. Having a properly functioning vacuum will make the most out of your cleaning time.
Heaven's Best Carpet & Rug Cleaners recommends vacuuming at least once a week. And, the Carpet and Rug Institute recommend have your carpets professionally cleaned at least once a year. So, it may be time for your professional cleaning. Give Heaven's Best a call at (205) 739-1880 to schedule a cleaning. And remember, along with your yearly carpet cleaning, vacuuming is also essential to keeping your carpet clean in Birmingham, AL.

Contact Heaven's Best to schedule a Professional Carpet Cleaning