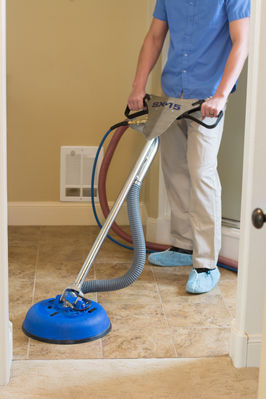 Few things can transform the appearance of your baths and kitchens faster than tile and grout cleaning in Birmingham, AL. A good scrubbing may be all you need to eliminate grout discoloring, though you may also need to remove and replace cracked and damaged areas, depending on the current state of the grout.
Of course, the easiest method of grout cleaning starts as soon as your tile is installed. If you are diligent and consistent about cleaning your tile floors and other tiled surfaces and are thorough when wiping out the grout as often as you clean your tile, it's going to be quite a while before you see any discolored grout in the first place. Grout discoloring is often caused by things like oil, food and dirt particles that are left in the grout and begin to ground into the surface over time. If they don't have the chance to get set in the first place, you'll have clean grout for years to come before you need to take action. On the other hand, it's easy to forget about grout cleaning, and often problems build up without us noticing until it's too late. In this case, it's time to set aside a few hours, or a whole day (or even a weekend, depending on the extent of your problem) to take care of that discolored grout.
If, however, you've found yourself at a place where you need to have your grout professionally cleaned and are looking for tile and grout cleaning in Birmingham, AL Heaven's Best would love to tackle the job for you! We can clean, seal and restore your tile back to its original color! Contact us today at (205) 739-1880 or fill out the form below and we will contact you!

Contact Heaven's Best to schedule Tile or Grout Cleaning