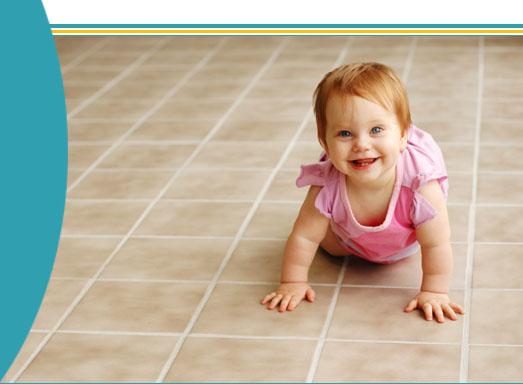 If you have Tile and Grout in your home that looks dull and dirty, it may be time to contact Heaven's Best Carpet & Rug Cleaners. Along with cleaning carpets, we also provide tile and grout cleaning services throughout the Birmingham, AL metro area. Tile along with a wide range of stone products are very popular surfaces for many kitchens, foyers, bathrooms, utility rooms, family rooms, porches, and many other areas, both inside and outside of the home. Like any other surface, these areas require ongoing daily, weekly, and/or monthly maintenance in the form of vacuuming, sweeping, mopping, and scrubbing. However, a toothbrush, some consumer–grade cleaners, lots of elbow grease, and a few hours of labor can only go so far. That's why you need the expert knowledge and professional care of Heaven's Best Carpet & Rug Cleaners.
Even if you clean your tile floors, over time the grout lines will become dirty and dark looking because they are a porous surface and they attract dirt and grime. Heaven's Best has special cleaners that can clean the toughest dirt from your grout lines. And after scrubbing your tile and grout, we will seal the grout lines with a protective sealant that will prevent them from getting dirty quickly.
Our professional tile and grout cleaning services in Birmingham, AL metro area will leave your tile and grout surfaces sparkling clean, bright and restored. So, if you are tired of cleaning your grout lines with a toothbrush, call Heaven's Best Carpet & Rug Cleaners today at (205) 739-1880 for a FREE Tile and Grout Quote. You will wonder why it took you so long to have your tile and grout professionally cleaned. Heaven's Best also cleans carpets, rugs, upholstery, hardwood floors and VCT Tile. Call us now at (205) 739-1880.

Contact Heaven's Best for a FREE ESTIMATE