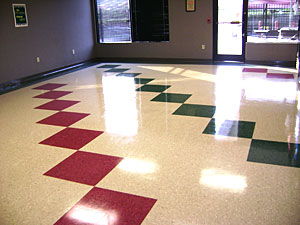 If you have tile flooring in your business, office or facility, it is important to have your tile floors stripped and waxed periodically in Birmingham AL. Many people call these floors tile, but what they actually are is vinyl composite tile or VCT for short. This is the type of floor that you usually see in hospital hallways and many other commercial buildings.
To keep VCT Tile looking clean and professional, it should be stripped and waxed usually about once a year. You will know when it needs it, because it will be obvious. It will look dull, and even yellow and even when you clean it, it will still look bad. This means it is time to have it stripped and re-waxed. Heaven's Best Carpet and Upholstery Cleaning also strips and waxes VCT Tile floors.
Stripping is a labor intensive process where we use specialized chemicals and our professional buffers to remove the old wax. After stripping and cleaning all the old wax off the floor, we apply new wax in thin coats to make it shine again.
Heaven's Best schedules our stripping and waxing jobs on days when your office is empty, such as nights and weekends. We will work around your schedule so we do not disrupt your business, your customers, or your employees. Along with providing excellent service, we offer great commercial rates. And, you don't have to worry about anything in your office while we are there cleaning. Our professional staff takes extra care when cleaning for you in your facility. Our company is covered by a $2 million liability policy to insure your facility is left in top notch condition while we are there cleaning. And, after we clean, it will sparkle like new! Why not call Heaven's Best now at (205) 618-9150 to schedule a Tile Floor Stripping and Waxing in Birmingham AL? Or, fill out the form below to schedule a FREE ESTIMATE.

Contact Heaven's Best for a VCT Tile Stripping and Waxing