If your wall-to-wall carpeting hasn't had a deep cleansing in a while, now's a very good time for you to contact the Best Carpet Cleaning Pros in Birmingham, AL. Heaven's Best Carpet & Rug Cleaners wants to prove to you that we are just that. Our cleaning solutions have been tested to ensure they are the best products to use to clean your carpet or upholstery. And, along with using superior cleansing products, we also have the newest equipment and technology to ensure you are getting the best possible cleaning.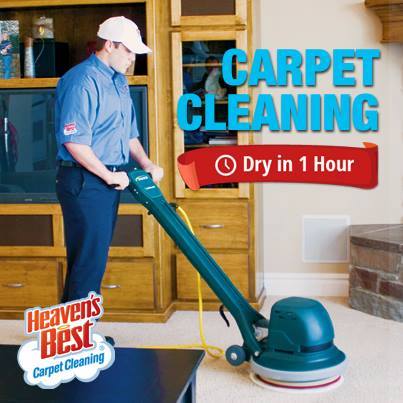 What should you expect when you call a professional carpet cleaning?
Well, here are a few items we believe you should receive:
Vacuuming – Professional carpet cleaners know that they need to vacuum before cleaning.
Minimum Fee – Most carpet cleaning professionals have a minimum fee, usually of $100. But, with Heaven's Best we aren't like the rest, our minimum fee is only $50.
In-home Inspection – Once the technician arrives, they should walk through your home with you to see what they are cleaning. This is when you can tell them about any problem areas, spots, or stains.
Expectations – The technician should explain to you how the process works and what you should expect from the cleaning. At Heaven's Best, we can get most stains out, but occasionally there are extremely dirty carpets that will not come completely clean. Our technician will let you know this before cleaning. If your carpet is very old and needs replaced, we will also inform you of this. Even if your carpet is in bad shape, we usually can make it look extremely better.
Pre-spotter or Pre-treater – After vacuuming, professional cleaners will pre-spot or pre-spray any spots, stains or problem areas.
Furniture moving – Professional cleaners like Heaven's Best will move furniture that can be moved. Large items such as dressers, china hutches and entertainment centers will not be moved, but will be cleaned around.
Grooming – After a Heaven's Best Cleaning, we rake your carpet so the fibers will stand back up and it will dry quicker. This is the final step of our multi-step carpet cleaning.
At Heaven's Best, we take extreme pride in our work, and we try to live up to our name "Heaven's Best" every time we clean. We want you to tell all your friends and family about us. Referrals are how we have gotten most of our customers and superior service is why we keep our customers. If you are in the market for a carpet cleaning, call Heaven's Best, the best carpet cleaning pros in Birmingham, AL. Our Jefferson County office # is (205) 739-1880 and our Shelby County office # is (205) 618-9150. When you call us, along with excellent service you will also get the most affordable rates in Birmingham! Call now for our current specials!

Contact Heaven's Best, the Carpet Cleaning Pros!