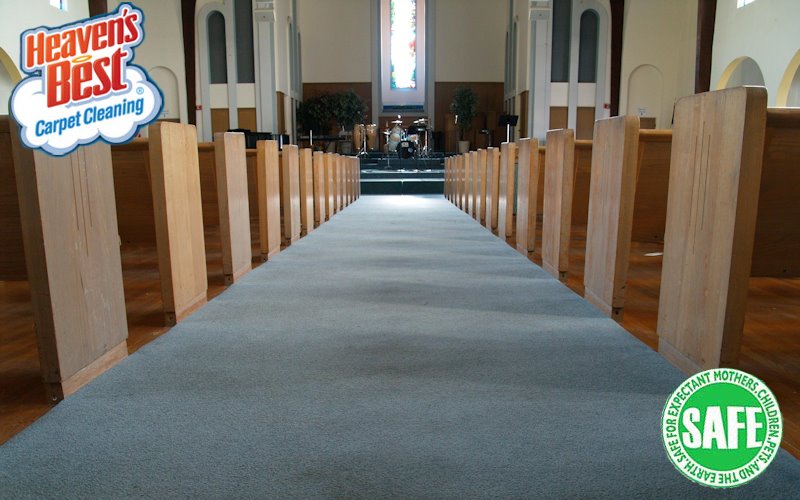 Summer is finally here! And, it means, it is time for Vacation Bible School, Weddings, Summer Parties and lots of fun for families and kids. It is also a great time to have the carpets, tile floors and upholstery at your church cleaned. Heaven's Best Carpet and Rug Cleaners have some Very Special Summer Rates for Church Carpet Cleaning in Birmingham, AL. So, if your Carpets, Floors or Tile look dull, dirty or dingy at your Church, it may be time to call the Professionals at Heaven's Best.
At Heaven's Best we know how to get carpets fresh and clean and looking like new again. We also know how to make VCT Tile shine like new! If your floors need some tender loving care, let Heaven's Best clean them for you. We also clean any upholstered furniture and can have your chairs, pews, or other furniture looking new again.
If you have carpet in your Church Sanctuary, we would love to clean it! We can make your Sanctuary smell very clean and fresh for all your summer services. Our all-natural citrus based carpet cleaning solutions are environmentally safe, which means they are safe for you, your staff and your summer guests. And, summer is a great time to have all the floors in your church cleaned, because we have special summer rates that make it very affordable. Our cleaning services can fit all budgets. Why not give Heaven's Best a call now at (205) 739-1880 to schedule a FREE ESTIMATE? It does not cost anything to have one of our professional technicians come out to measure and give you a FREE ESTIMATE.
Heaven's Best will make your church look and smell fresh and clean for all your summer guests with our Special Summer Rates for Church Carpet Cleaning in Birmingham, AL. Contact us today by filling out the form below or giving us a call at (205)739-1880.

Contact Heaven's Best to schedule a FREE ESTIMATE for Carpet or Floor Cleaning