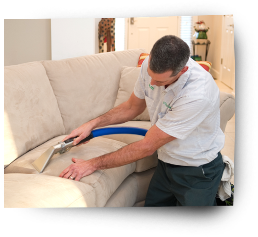 If you're looking for simple tips for caring for your upholstery in Birmingham, AL you've come to the right place! Keep ready for some easy ways to maintain your upholstered furniture.
2. Protect Your Fabric – Having Fabric Protection or Scotch guard applied to your furniture immediately after purchasing it will help it stay clean longer.
3. Turn the Cushions – You can easily extend your upholstered furniture's life by periodically turning over the loose cushions. This easy maintenance method allows for an even distribution of wear and tear and your cushions won't develop indentations right away. Caring for cushions by fluffing them also helps keep them in shape.
4. Vacuum – Just like vacuuming your carpet helps maintain it and extend its life, vacuuming your upholstered furniture weekly will help remove dust and surface soil. This also prevents dirt from becoming embedded into the fibers.
5. Spot Clean - While regular care does a lot for your upholstered furniture's maintenance, accidents are inevitable. Blot any spills immediately with a clean cloth: don't rub, but blot gently. This may be enough to get rid of the stain completely, especially if the fabric has been pre-treated with a fabric protector.
If you've found caring for your upholstered furniture is just a little more than you can handle or find the time to do, call Heaven's Best today and we will gladly get your furniture looking like new again! Call us at (205) 739-1990 for our current upholstery cleaning specials. We hope you've found these simple tips for caring for your upholstery in Birmingham, AL helpful.

Contact Heaven's Best to schedule a Carpet, Floor or Upholstery Cleaning