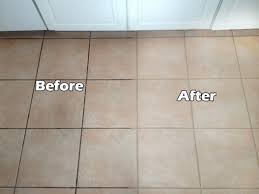 Are you on the market for a safe tile and grout cleaner in Birmingham, AL? If so, we can help! Safe cleaning products are incredibly important if you have kids and pets. Strong chemicals that need to remain on surfaces for a little while during cleaning is not very practical for those of us who have children or little furry friends. Below is a simple recipe for making your own tile and grout cleaner that is safe and easy to use.
All you need to make this cleaner is some vinegar and baking soda. Mix about 2 cups of vinegar with a half a cup of baking soda in a plastic bucket. The cleaning solution will smell like vinegar, but you can add a drop or two of an essential oil for a more pleasant smell. It is a good idea to wear gloves while you are scrubbing the tile and grout. The solution may become warm when scrubbing – this is normal and nothing to worry about. After scrubbing the tiles, take a brush and rub it on the grout lines. You want to allow the cleaning solution to dry. Scrub the grout lines one final time after they are completely dry.
If the above method doesn't leave your tile and grout quite as clean as you'd like, you may need a professional on the job! Heaven's Best Carpet Cleaning can finish the job for you. Over time, mold, mildew and dirt take residence in the porous surfaces of your tile, stone & grout – our cleaning solution penetrates deep inside these pores removing bacteria and other micro-organisms. For a safe tile and grout cleaner in Birmingham, AL, give us a call today at 205.739.1880 and we'll be happy to give you a free estimate to get the job done well and right away!

Contact Heaven's Best to schedule a Carpet, Floor or Upholstery Cleaning