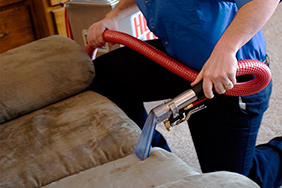 While it is best to call a professional carpet and furniture cleaning company when you need a spot or stain removed, you may decide that you want to try to do it yourself first. When removing stains from upholstery in Birmingham, AL here are some things to keep in mind.
The first thing to keep in mind is that you'll need to be very careful when trying to remove a spot or stain from your upholstered furniture. The upholstery used on many furnishings are often delicate and many materials, such as linen, cotton, or silk can be easily damaged. It's also important to keep in mind that the colors can potentially bleed with do-it-yourself furniture cleaning attempts.
If you have decided to remove a spot from your favorite sofa or chair yourself, just remember to be gentle. One thing you can do is use a baby wipe (yes, the same thing you use on the bottoms of your babies). Gently and carefully blot (don't rub!) the spot with the baby wipe - the mild "cleaning agent" in the wipe just might do the trick. Baby wipes are also great to use on the arms or edges of your furniture if you've noticed a little bit of soil build-up.
You don't want to apply too much cleaning solution directly onto your stain or spot. This can result in permanent damage. Be sure not to rub or scrub any spot or stain. Blotting is safest method when cleaning your upholstery.
Too much aggressive cleaning on your part and you may find that you've done irreparable damage. So be careful with your furniture and upholstery... furniture is an investment that you want to last a long time.
At Heaven's Best we have expert upholstery cleaners and professional equipment, mild cleaning agents and the know-how to bring life back to your upholstery and get those stains out safely. If you've realized you need help removing stains from upholstery in Birmingham, AL call Heaven's best today at 205-739-1880 and we will get those upholstered pieces cleaner than clean!

Contact Heaven's Best to schedule a Carpet, Floor or Upholstery Cleaning