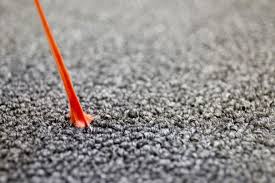 The key to removing most stains is to try doing so as soon as possible. The longer a gum stain sits in your carpet the more difficult it may be to remove. Below are a couple of methods to try when removing gum stains from your carpet in Birmingham, AL.
Method #1:
This do-it-yourself method may do the trick when you've got a yucky, sticky gum mess that has found its way to your carpet.
Grab a zip lock bag and place a couple handfuls of ice inside.
Place the bag of us directly on the gum. This will harden the gum and make it easier to remove.
Next, use a butter knife, putty knife or some sort of scraping tool to gently scrape the gum from the carpet.
Use a carpet cleaner and sponge and saturate the gum stain.
Cover the gum stain with a clean white towel or rag to soak up any remaining liquid and continue patting dry.
Method #2:
As soon as you've discovered the gum stain, grab your hair dryer and blow it straight onto the gum.
Make sure not to melt the carpet fibers – watch the gum closely and as soon as you see the gum begin to melt use a plastic bag and begin scraping the melted gum. Once the gum has made contact with the plastic bag, it should begin to stick to the bag making it easier to remove it.
Continue until the entire gum stain has disappeared.
If you've tried these do-it-yourself methods when removing gum stains from your carpet in Birmingham, AL. and still find that you cannot remove the gum from your carpet, give Heaven's Best a call! Or, if you've had a successful go at it and would like to have the rest of your carpets professionally cleaned, we'd love to do the job for you! Call us today to schedule a carpet cleaning!

Contact Heaven's Best to schedule a Carpet, Floor or Upholstery Cleaning