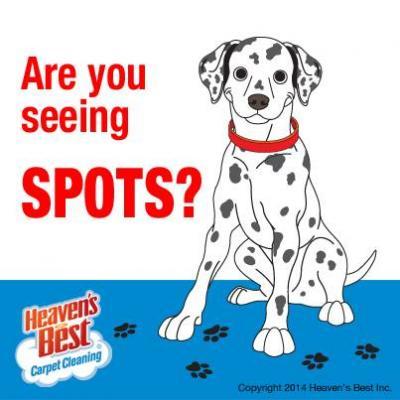 Are you seeing spots? It's not uncommon to have a few (or even several!) dark, black, or brown mystery spots on your carpet. If you are one of the many that needs help with removing dark spots from your carpet or rugs in Birmingham, AL Heaven's Best can help! Heaven's Best Carpet & Rug Cleaning has professional strength, environmentally safe cleaning products to help with removing these nasty spots from your carpet.
Our unique cleaning solutions will remove almost any spot or stain in your carpet, rug, or upholstery. One of the worst, and most visible spots or stains you can get is black dirt and grime. It is not uncommon to get some sort of black, gray or brown traffic marks in areas where you have a lot of foot traffic, almost everyone gets them. These stains can look really bad and draw a lot of negative attention – especially when you have white, or a natural color carpet. And guess what? Most people have cream, tan or light beige carpet. However, fortunately for you, these types of black spots and stains are very common and we know exactly how to get rid of them. Heaven's Best of Birmingham has an excellent product called Fast Acting Enzyme that we use as a pre-spray before we even start to clean. This product starts to break down the dirt and grime on contact. It works extremely well on black traffic lanes and just plain old dirt, dust and grime. Even if you have light colored or even white carpet, we can get your carpets looking almost like new.
Don't worry about those unsightly spots any longer! Call Heaven's Best today at 205-739-1880 and let us take care of them for you. We are experts when it comes to removing dark spots from your carpet or rugs in Birmingham, AL and would love to get the job done for you. Don't live with those dirty carpets any longer – call us today or fill out the form below and we will contact you!

Contact Heaven's Best to schedule a Carpet, Floor or Upholstery Cleaning