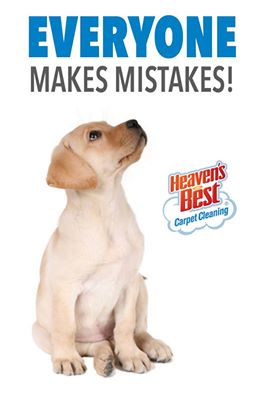 If you share your home with furry family members, then you know that accidents can – and often do – happen. You may want to know how to remove pet odors from hardwood floors in Birmingham, AL. Whether you're potty training that new puppy, or caring for an elderly pet, or just have a stubborn furry friend, it's not uncommon for them to have an accident from time to time. If you have hardwood floors pet urine can seep in and it you may be left puzzled, wondering how to get rid of the odor, even after you've cleaned up the mess. One of the best ways to fight urine odors is to clean the accident as soon as you discover it, reducing the amount of time it has to seep into your hardwoods. After the accident has been cleaned, it's time to tackle the stain and remove any remaining odors.
Dog Urine in Hardwood Floors
There are many pet urine cleaners on the market, but you can efficiently eliminate stains and odors with products you likely already have on hand.
For an easy and effective homemade odor removal solution, combine 1 cup water, 1/3 cup distilled white vinegar, 1/4 cup baking soda and 1/4 mild dish soap. Place your homemade solution into a spray bottle, shake vigorously and spray the solution directly onto the stain. Rub the solution in with a clean, dry cloth and allow it to stand for roughly 15 minutes. After the solution has had time to permeate the stain, rinse with a damp cloth and dry completely.
Cat Urine in Hardwood Floors
Removing cat urine smell from hardwood floors can be even more challenging than dog urine. For a homemade solution, try hydrogen peroxide applied directly to the soiled area. Pour the hydrogen peroxide over the stain and then cover it with a clean cloth soaked in hydrogen peroxide. Cover the cloth with plastic wrap – use a book or other heavy item to weight if needed. Leave this on the affected area overnight if possible, but at least for 8 hours. The hydrogen peroxide should remove any stains and eliminate the urine odor. However, hydrogen peroxide can lighten the floors and the affected area may need to be sanded and refinished. Hydrogen peroxide also will work for dog urine stains and odor as well.
Determining the right method for getting pet urine smells out of hardwood floors can seem intimidating. If the project seems too overwhelming, it's time to call in for professional help. Heaven's Best can help remove pet odors from hardwood floors in Birmingham, AL. We use environmentally safe cleaning products that are safe for the family, and, you guessed it- for your pets too. Call us today at 205-739-1880 for a FREE estimate or to schedule an appointment. We will leave your hardwoods looking new and smelling fresh! Call us today or fill out the form below and we will contact you!

Contact Heaven's Best to schedule a Hardwood Floor cleaning or FREE ESTIMATE today!