Sofas, arm chairs and other upholstered items can take some major abuse, especially in homes with children or pets. But even though dirt and stains are inevitable in your home, they don't have to be permanent. A Professional Furniture and Upholstery Cleaning by Heaven's Best of Birmingham, AL can bring new life into your furniture. Heaven's Best Carpet & Rug Cleaners will make your dirty, tired looking upholstery look and feel as good as new. Our technicians are specially trained through the IICRC (Institute of Inspection, Cleaning and Restoration Certification) to clean and protect upholstered furniture.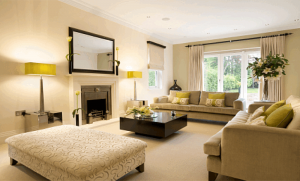 Heaven's Best uses powerful cleaning solutions specifically designed to clean upholstered fabric. Our unique Upholstery Mate is a powerful piece of equipment used to suck away dirt and soil from the surface and fibers of your fabric. The secret to Heaven's Best process is our all natural citrus based upholstery cleaning solution. This cleaner uses the power of citrus and natural boosters to clean dirt and grime from fabric without leaving any residue behind. After a Heaven's Best Cleaning, your upholstery will be clean, fresh and safe to sit on because our solution is non-toxic and environmentally safe. This is especially important because we want you, your children and your pets to feel safe sitting on your furniture after a Heaven's Best cleaning. Rest assured! Our cleaning solution is so safe, you can actually drink it, although we do not recommend this.
Heaven's Best Upholstery Cleaning offers Unique Advantages such as:
Safe for all kinds of upholstery- Our solution works on almost all fabric upholstery.
Safe for children and pets.
A money saver because Heaven's Best leaves no dirt-attracting residues which can prematurely re-soil your upholstery.
Great for sofas, love seats, recliners, dining room chairs, ottomans and even mattresses.
Heaven's Best's Fabric Protection shields your upholstery by forming a water and oil repellent barrier on the surface of your upholstery material.
You probably spent a great deal of time (not to mention money) choosing just the right furniture for your home. The look and the feel of new furniture is something we wish would last for a long time, but if you are like us, you use it. We sit on it, lay on it, play with our dogs on it, eat snacks on it. You name it, we do it on our furniture! Our upholstery is well used and well loved. So, to helps keep it looking like new, we clean it! We can help keep your furniture looking like new with our professional upholstery Cleaning services. Call us at (205) 739-1880 to schedule a Professional Furniture and Upholstery Cleaning by Heaven's Best of Birmingham AL. You will be glad you did! And, with our FREE Citrus Deodorizer, your home as well as your furniture will smell great!

Contact Heaven's Best to schedule an Upholstery or Carpet Cleaning