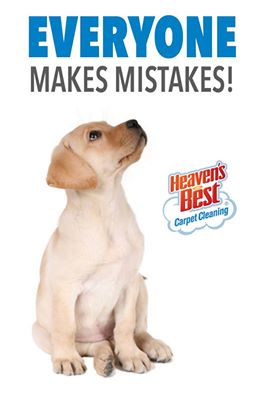 We love our pets and we know you love yours. Their messes in the house, however, is a different story. We can help with pet stains and carpet cleaning in Birmingham, AL. At Heaven's Best Carpet & Rug Cleaners we can tackle just about any pet stain or odor problem you may have! We know that these types of spots can be anything from a minor one-time accident, to a major problem. With animals of any kind, there is just simply no guarantee that they won't have an occasional accident.
Even if you are a good housekeeper and you clean regularly, stinky pets can wreak havoc on your carpets and floors. If your house smells of a pet that does not necessarily indicate bad housekeeping, but it can be embarrassing. After living with the smell for a while, you become accustomed to it and you may not even notice it. Even if your pets don't mess in the house, cats and dogs spend a lot of time laying and rolling around on the floor. Their body odors can permeate into the fibers of your carpet and upholstery.
Heaven's Best Carpet & Rug Cleaners are known for our advanced pet friendly and environmentally safe cleaning product. These products handle even the toughest pet problems. Our dedicated team of cleaning experts have the equipment and tools to tackle most every situation.
How Heaven's Best Can Help
We will come out to your home and assess the contaminated areas. We will utilize the following procedures as required to treat the stains and odors:
Detect contaminated areas using a black light and moisture probes.
Extract the urine and salts and clean the soiled areas.
Utilizing state of the art chemistry we will remove stains and neutralize and dissolve urine salts.
Deodorize all spots with an extra strong pet deodorizer that will help to eliminate pet odor.
Call Heaven's Best Carpet & Rug Cleaners at (205) 739-1880 for pet stains and carpet cleaning in Birmingham AL.

Contact Heaven's Best to schedule a Carpet or Floor Cleaning