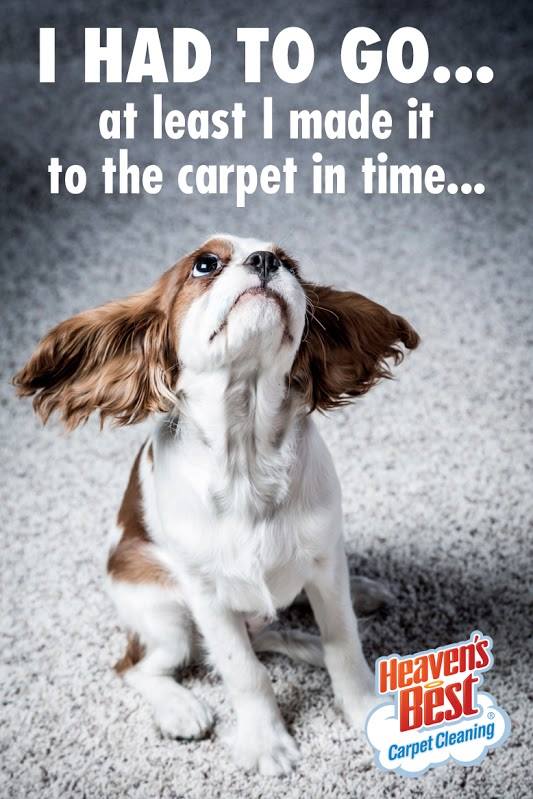 We love our four-legged friends dearly…but not so much the stains and messes they leave behind. So, here are some simple tips for how to make Pet Stain and Odor Homemade Carpet Cleaner in Birmingham AL. Although they can make some major messes in our homes, we still love them. We can't blame them really-they don't come into the world knowing they have to go outdoors or in the litter box every time they have to go potty! There's no way to avoid the mess, no matter how well trained they are, they will have accidents. By making your own cleaners you can avoid lasting stains and save money. In short, these homemade stain removers will help get out the stain, as well as the smell. These solutions work just as well as expensive cleaners. They can get out most pet stains and odors including mud, blood, number 1 or number 2.
Note: Test for color-fastness on an inconspicuous area before use, and remember-this is a process, make sure to always blot up as much excess liquid before treating, and be patient. No shortcuts!
Vinegar-Baking Soda Spray
It doesn't get much easier than this spray. Most of the time, this is the one I choose to use. It's simple, inexpensive, and works great on blood and urine stains in particular. White vinegar is a miraculous substance that will get rid of even the old accident stains that might have been missed if a dog did a "ninja-pee" behind the bookshelves or something. Baking soda is nature's odor remover, and teamed up with vinegar, does a great job at getting rid of odors!
You will need…
2 cups white distilled vinegar
2 cups of lukewarm water
4 generous tablespoons of baking soda
Spray bottle (optional)
Directions:
Thoroughly blot up as much of whatever it is you're cleaning up. This is probably the most important step. The more you can get of the stain out the easier it will be to treat. To do this, fold a towel or rag over the stain and place a heavy book on it. Next, stand on the book to make sure you really get it all out. This may sound extreme, but it does a good job of absorbing the spot. Next, mix 2 cups of white distilled vinegar with 2 cups of lukewarm water in a large bowl. Add in 4 heaping tablespoons of baking soda, adding it in smaller amounts if it threatens to fizz over (and it really does fizz!) Pour into a spray bottle and thoroughly soak the area. Let sit for 5 minutes, then gently rub and blot up with a soft cloth. You can also simply pour some straight from the bowl over the stain if you don't have a spray bottle.
This is probably the best homemade carpet cleaning solution ever. You can use it on just about any stain you have in your carpet. If this sounds like too much work, you can always call your local Heaven's Best Carpet and Upholstery Cleaner. We service all of Jefferson and Shelby Counties in Alabama and have excellent spot and stain removers to get rid of some of the dirtiest stains. We also have great rates. So, if you don't have time to try this Pet Stain and Odor Homemade Carpet Cleaner in Birmingham AL, call Heaven's Best Carpet Cleaning at (205) 618-9150. All our carpet cleanings include FREE CITRUS DEODORIZER that will make your home smell clean and fresh. Call us today at (205) 618-9150.

Contact Heaven's Best to schedule a Professional Carpet Cleaning