If you need Magic Marker Stain Removal from a Couch or Sofa in Birmingham AL, Heaven's Best Carpet and Upholstery Cleaning can help. We had a crazy mess on our couch recently when our two year old niece found a marker and decided to do artwork on the sofa cushions. Here is the photo of the sofa cushion after she created her artwork.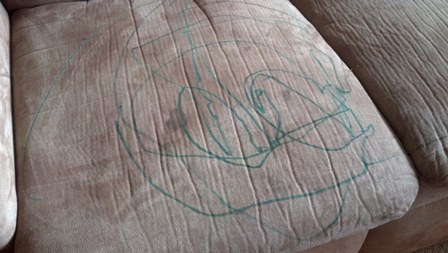 It almost looks like a happy face. I can assure you, we were not happy when we saw this.
Now, sometimes we can get normal marker spots out of carpet or upholstery. It often depends on the brand, color and type of markers. Sometimes it is more difficult to get the spots out if the markers are permanent, but in this situation we were had no problems cleaning this up.
Here is the cushion after we cleaned it using our Heaven's Best Cleaning solutions.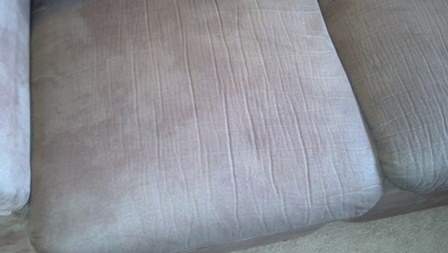 We were able to easily remove the magic marker stain from the cushion using our unique Heaven's Best Carpet Cleaning solutions. We have several different spot removers that can get out almost any stain you or your kids can make.
We do recommend buying washable markers if you have small children, because they are much easier to get out. But, if you have an accident like this, we can help.
Heaven's Best Carpet and Upholstery Cleaning is owned and operated by Stephen Mobley, a retired Veteran of the US Marine Corps. Steve spent 18 years in defending our country and has dedicated his life to the Marine Corps values. These same core values of honesty, integrity, dependability and pride are how he runs his business. He also helps out in the local community. He supports the Salvation Army of Birmingham and volunteers his time to clean floors for them. When you call Heaven's Best of Birmingham, you will get honest prices, honest expectations, excellent cleaning services, and great customer service. Whether in your business or in your home, Heaven's Best will leave your carpets, floors or upholstery heavenly clean.
Don't wait any longer, call Heaven's Best at (205) 618-9150 for Magic Marker Stain Removal from a Couch, Sofa, Love Seat or Chair in Birmingham, AL.

Contact Heaven's Best for Stain Removal Help