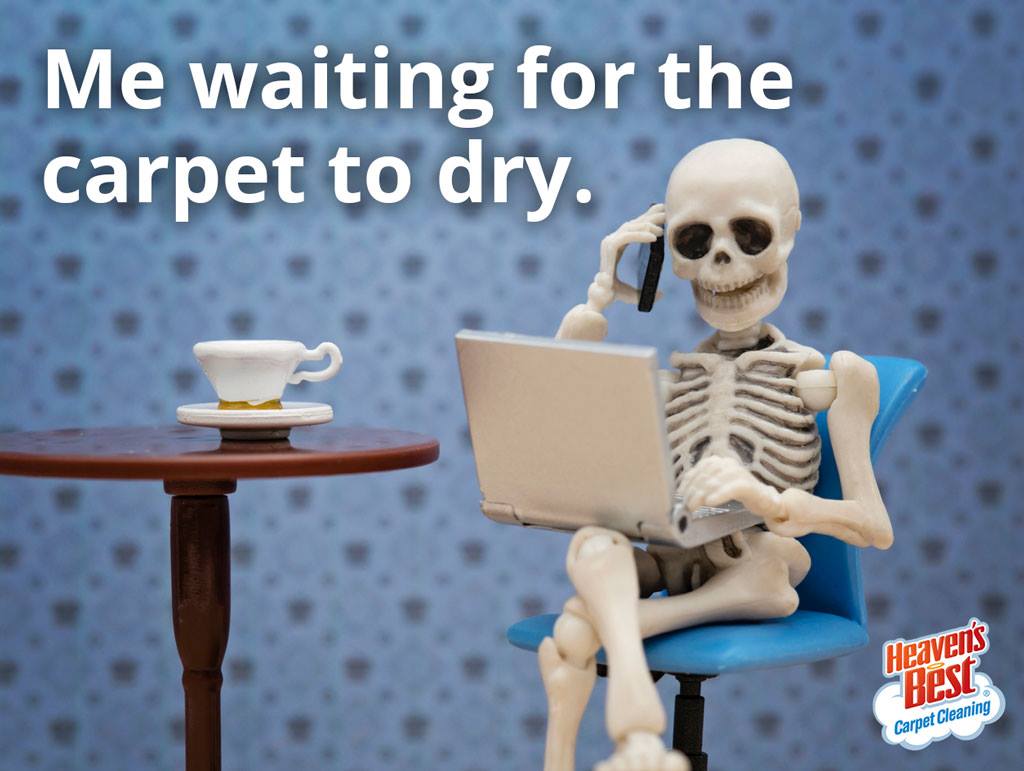 Don't sit around for hours waiting for your carpet to dry. Call Heaven's Best to get your carpet dry in one hour! Once you have tried our Low-Moisture Carpet Cleaning Process in Birmingham, AL, you won't go back!
Have you ever had your carpets cleaned and when the guys left, you realized that your carpets were still sopping wet? A day after the cleaning you try to walk across your carpets and your socks get all wet and you have to take them off. Then, you realize the whole family has walked across them and you can now see dirty foot prints. Your dog comes in from outside and you can see everyone he has been because of the little footprints. Well, you are not alone! You start thinking; I just got these carpets cleaned and they are already dirty again. Another day goes by and they are almost dry, but by now the entire family has tracked in dirt from outside. And, the traffic lanes have come back and dirt is stuck to your newly cleaned carpets because they are still slightly damp.
If this has happened to you, you are definitely not alone! Heaven's Best Carpet Cleaning process was developed because of this problem. Heaven's Best studied the carpet cleaning market and learned that this was a complaint of our competitor's customers. That is why Heaven's Best developed our LOW-MOISTURE CARPET CLEANING PROCESS. What this means is the following:
Heaven's Best uses less water when we clean your carpets. If we put less water down, there is less water to extract out, so your carpets will dry faster.
Heaven's Best Proprietary Cleaning Solutions are designed to clean extremely well with very little water. So, even though we use less water, we can still get your carpets very clean.
Heaven's Best grooms your carpets after we finish cleaning them. What does this mean? We rake your carpets with a Carpet rake that is similar to a broom, but it has stiff bristles at the end that help stand the fibers back up. Raking helps by letting air get to the fibers so they can dry faster.
This entire Heaven's Best process means that your carpets will dry fast, in about 1 Hour.
Why is it important for your carpets to dry fast?
Well, if you have ever cleaned your carpets and they have stayed wet for many hours or even days, you already know what happens. Wet carpets attract Dirt! So, even though you just had your carpets cleaned, they look like they weren't even cleaned at all. You feel like you got ripped off because a week after the cleaning your carpets are Dirty! Not what you paid for or expected.
We know how this feels and we don't like it either! So, we developed our unique Low-moisture process to solve this problem. And, we also back it up with a 30 day Guarantee. With Heaven's Best you don't have to worry if your carpets look dirty after a week or even if a spot comes back. If a spot comes back, we will come back. We will come back and clean them again within 30 days of the cleaning. No questions asked! So, what are you waiting for! Give Heaven's Best a call right now at (205) 739-1880. Once you have tried our Low-Moisture Carpet Cleaning Process in Birmingham, AL, you won't go back to the old way. Clean, Dry Fresh Smelling Carpets that Dry in about 1 Hour! Give it a try!

Contact Heaven's Best to schedule a Low-Moisture Carpet Cleaning!