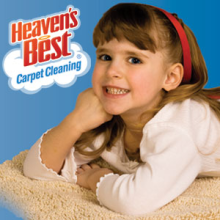 If you are looking for a local carpet cleaner you can trust in Birmingham, AL, look to Heaven's Best Carpet & Rug Cleaners. Heaven's Best of Birmingham is a full service carpet, upholstery, and floor cleaning company serving the Birmingham, AL metro area. If you're looking for a friendly, trustworthy, and knowledgeable carpet cleaning company who will treat you fairly and offer innovative, cost-effective solutions for your carpet and upholstery cleaning needs, give us a call at (205) 739-1880.
What can Heaven's Best offers you that other carpet cleaners in Birmingham can't:
Locally Owned and Operated - When you call Heaven's Best, you will speak directly to one of the owners right here in Birmingham. You won't get a corporate office, a receptionist, or an answering service. We at Heaven's Best take pride in our community and we plan to continue to service the Birmingham area for a long time.
1 Hour Drying Time - We offer the quickest drying time on the market, which means less hassle for you and your family. You can get back to your life and activities in no time after a Heaven's Best Cleaning!
Prompt, Reliable Service - At Heaven's Best we know that you don't have time to wait for the carpet cleaner. We are on-time and we strive to live up to our name "Heaven's Best" every time we clean.
Licensed and Insured - We maintain all of the required licenses, as well as a $2 million General Liability Insurance policy. Although we've never filed a claim, we are fully insured just in case.
Trusted Name - Heaven's Best has been a trusted name in carpet, upholstery, and floor cleaning since 1983.
Best Cleaning Solutions - We have the best cleaning solutions in the business. We will put our exclusive cleaning solutions up against any other cleaning solution available, either off the shelf or commercial. Our exclusive cleaning solutions deliver superior results every time, and they're also safe for pets, children, and the environment.
Property Protection - Other cleaners run gallons of water through your carpet. That water soaks the carpet as well as the padding under the carpet, which won't dry for days. The glues used to manufacture your carpet are water soluble. Soaking your carpet will damage it and shorten its life. Our low moisture process decreases the risk of mold and carpet warping, and makes your carpet last longer.
Virtually Silent Cleaning Process - Unlike noisy steam cleaning systems, the Heaven's Best process is virtually silent, which keeps the neighbors and you happy.
Your Family Can Trust Our Family - Heaven's Best is a family owned carpet cleaning company. We're proud of our business and we'll do everything we possibly can to maintain a good name. You can trust our family in your home or business.
These are just some of the reasons Heaven's Best Carpet & Rug Cleaners is a Local Carpet Cleaner you can trust in Birmingham, AL. Call us now at (205) 739-1880, or fill out the form below to schedule your next Carpet Cleaning Appointment. We promise you will not be disappointed!

Contact Heaven's Best to schedule a Carpet Cleaning