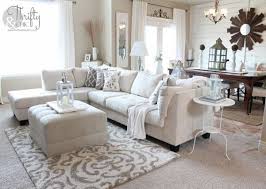 Some people consider rugs over carpet to be taboo, to others it's a way to incorporate personality and color into a carpeted room, or even to cover up some unsightly damage or stains that are beyond a good cleaning. When considering whether or not you want to try layering rugs in your carpeted space in Birmingham, AL here are some things to think about.
Why it's worth a try
Carpeted rooms shouldn't be a deterrent from purchasing area rugs. Area rugs are works of art, dashes of colors and texture that are meant to add to the overall aesthetic and environment of a room. Rugs serve a purpose beyond just function as they can set the tone and add to the style of a space – they can be the piece that brings all the other decorating elements of a room together.
Contrasting textures and colors
In most cases, wall-to-wall carpeting is very basic; a neutral color with a cut wool pile that typically has no heathering or interesting variation. Rugs can bring life to an otherwise boring floor. Think about adding a rug that has a different texture and/or fiber like jute, sisal, silk, high/low or a flat weave with patterns and colors. This will make the area rug stand out as a new and important component in the room.
Say no to plush
Avoid having the pile be too high on the top layer (think super plush Moroccan shag). Your goal should be to create contrast and dimension, not a mountain that you can trip on.
Think about size
If you are using the rugs to separate spaces consider getting a couple of smaller rugs that complement one another. On the other hand, if you want to cover as much ground as possible, go with a larger room-sized area rug.
Use a rug pad
Rugs and rug pads go together, you can't (or shouldn't) have one without the other. Even though the area is carpeted doesn't mean this marriage should be broken up. Grab a rug pad that is specifically designed to be used over carpets or try double-sided carpet tape.
We hope this has been a helpful tool in determining whether or not layering rugs in your carpeted space in Birmingham, AL is for you. If you ask us, we say it's a go! Whether or not you decide to bring a rug into your area, you should definitely think about getting those carpets cleaned. Most manufacturers recommend having your carpets cleaned at least every 12-18 months. Call Heavens Best today at 205-739-1880 to schedule a routine rug or carpet cleaning.

Contact Heaven's Best to schedule a Carpet or Floor Cleaning