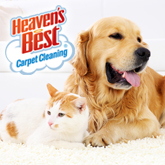 We love our pets! They're cute, cuddly, and absolutely our very best friend, right? But when it comes to their messes such as pet urine in carpet, we might not like them so much. At Heaven's Best Carpet and Upholstery cleaning we know how to remove pet urine from your carpet in Birmingham AL. Here are some simple steps you can take to get it out yourself. If you still need help, you can definitely call Heaven's Best Carpet Cleaning at (205) 618-9150 to come to the rescue.
Here are the steps to try.
1. If the area is still wet, blot the area with a clean towel or paper towels to absorb the urine from the carpet and pad. Then place the absorbent rag or towel over the area and step on it firmly several times until there is no more urine to soak up.
2. Depending on the size of the accident mix together equal amounts of white distilled vinegar and water in a glass or for larger stains, a bowl. So, you will have a 50/50 mixture of vinegar and water. Pour this mixture onto the stain making sure you saturate the carpet enough to get the solution deep into the carpet pad below. You want the solution to soak down into the pad, because if the Pet urine penetrated the pad, the vinegar solution will be able to break it down. Vinegar is high in acid and will neutralize the alkaline in the pet urine.
3. Let it sit for at least 15 minutes so the solution can do its work and completely neutralize the urine.
4. Next, place a folded terry-cloth towel over the spot. Apply pressure with your hand or step on it firmly to get out as much of the solution as possible. Repeat this step until there is no more moisture transferring onto the rag.
5. To finish the place another clean fresh towel or rag over the spot and then place something heavy on top of it like some heavy books. Let it sit overnight.
This process should remove the pet urine stain from the carpet and the pad, but if the stain is still visible after drying, mist a light mist of 3% concentration hydrogen peroxide onto the area. Do not over wet the carpet; we are now working with the surface fibers only to remove any yellowish staining. Using a clean, white, absorbent cloth blot or wipe the stain from the outside working your way in. Repeat until the stain is gone.
If this sounds like too much work or if you still need help Removing Pet Urine from your Carpet in Birmingham AL, call Heaven's Best Carpet Cleaning at (205) 618-9150. We have professional strength spot removers that can get rid of pet stains and odors. And, we have great rates! Call us today at (205) 618-9150!

Contact Heaven's Best for Pet Stain Removal