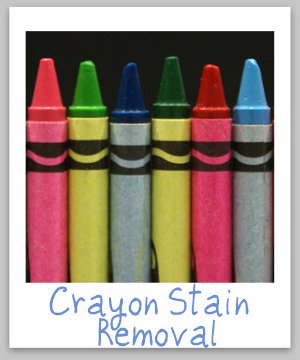 If you have kids, than you may have been shocked to find that they colored on your upholstery with crayons. If so, here are some simple tips on How to Remove Crayon Stains from Upholstery in Birmingham, AL.
First: Scrape off the excess crayon with a dull knife.
Hint: If the crayon is soft and difficult to scrape off, you may want to harden it by placing a plastic bag full of ice on it. This will help to harden it so it will be easier to scrape. Be careful to try not to get the stain wet with water as it will make it more difficult to remove.
Second: For the crayon wax stain still remaining after you have scraped off the wax take a clean white cloth and sponge the stain with a dry cleaning solvent. Dry cleaning solvent is a cleaner that does not contain water. There are different dry cleaning solvents on the market that you can purchase such as Guardsman Professional Strength Dry Cleaning Fluid Stain Remover, or Formula 1 Dry Clean Car Carpet and Upholstery Cleaner. You can find these and other brands at amazon.com.
Hint: Before using any solvent on your furniture, test it on the back or bottom to make sure it does not change the color or dye the fabric.
Third: Next, blot at the stain with a clean white cloth until the solvent is absorbed.
Fourth: Continue blotting until the stain is gone.
If this sounds like too much work, than the easiest way to get the stain out is to call Heaven's Best Carpet & Rug Cleaners at (205) 739-1880. We have special upholstery cleaning equipment and dry cleaning solvents that work very well on crayon and almost any stain you get on your upholstery. Try these tips for How to Remove Crayon Stains from Upholstery in Birmingham, AL. If you still need help give Heaven's Best a call at (205) 739-1880.

Contact Heaven's Best to schedule a Professional Upholstery Cleaning