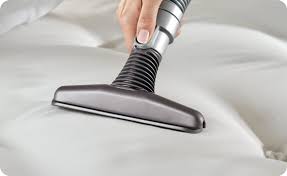 We all know you should clean your mattress regularly, but you may be asking how. I'd love to share with you a step by step guide so you'll know how to clean your mattress in Birmingham, AL. Your mattress isn't really something that can just be thrown in the wash. Short of calling a professional carpet cleaning service to clean your mattress for you, it can feel like there isn't much you can do. However, cleaning your mattress may actually be a whole lot easier than you think!
All you need is a little bit of backing soda and a vacuum cleaner and you can effectively and easily clean and freshen any mattress in your home in just a couple of hours! This easy process will eliminate odor, dust mites, dirt and moisture and any other unwelcome substances without any harsh or harmful chemicals or harsh fumes. In fact, it's so easy, it's definitely worth the little bit of time and small amount of effort to keep it clean. After all, we do spend a good part of our lives sleeping.
You'll want to use about ¼ cup of baking soda – after all your bedding is washed – use a sifter to evenly sprinkle the baking soda across your mattress. (Note: you can add essential oils for a pleasant smell.) Let the baking soda sit for about an hour to an hour and a half and then vacuum it up. It's that easy!
If you'd rather leave your mattress cleaning to the pros, Heaven's Best will come out and professionally clean your mattress for only $59 (queen mattress). Now you know how to clean your mattress in Birmingham, AL but remember – Heaven's Best would be happy to do the job for you! Just like your flooring, your mattress will last longer if it's professionally cleaned. If you're taking the time to have the carpets in your home cleaned, why not have us clean your mattress too!

Contact Heaven's Best to schedule a Carpet, Floor or Upholstery Cleaning