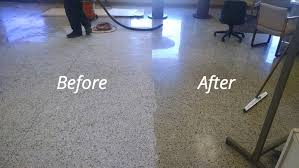 Do you have vinyl composition tile, or VCT, flooring in your home? VCT is more commonly found in commercial spaces but it is gaining popularity for domestic use as it is an easy to clean, durable flooring option. If you are among those who are opting in for this type of flooring and would like more information on how to care for and clean your VCT flooring in Birmingham, AL, read on for some easy to follow tips.
Use a gentle broom, or vacuum and sweep away any loose debris.
Use any type of common household floor cleaner, according to the directions on the packaging.
Dip a mop into the cleaning mixture of your choice and wring it out. Clean the floor in small sections, continuing to dip the mop into the cleaning solution and wringing it out after each section.
After you have completed cleaning the floor, rinse the mob well, fill the bucket with clean warm water and go over the entire floor again with a clean, wet mop. Allow the floor to air dry completely.
If your floors need a fresh look, apply a thin coat of finisher or sealer for VCT flooring. Make sure to use a floor applicator designed for floor finishes. Allow the finisher or sealer time at least an hour to dry following package recommendations. Allow extra time to dry if it is humid outside. After the sealer or finisher is dry to the touch apply a second coat and allow ample time for it to dry before using the floor.
Stand back and admire your clean, shiny and fresh floors!
If you find this method to be too time consuming or would rather just have a professional do the job for you, calls Heaven's Best today! We clean commercial and residential VCT flooring at the most competitive rates! If you just aren't quite sure how to care for and clean your VCT flooring in Birmingham, AL we would be happy to get the job done for you. Call and schedule an appointment today at 205.739.1880 or fill out the form below and we will contact you!

Contact Heaven's Best to schedule a Carpet or Floor Cleaning