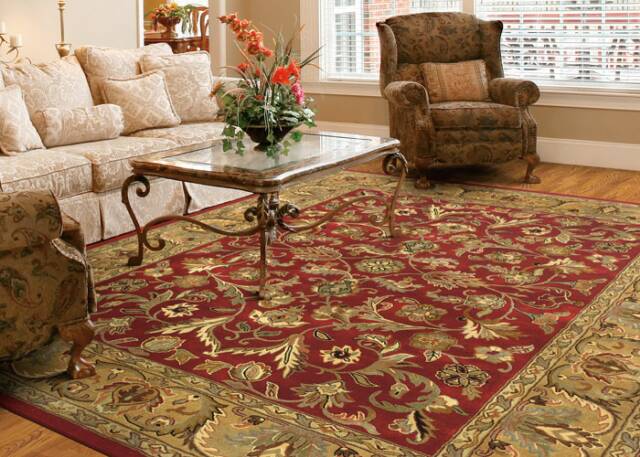 A study by Eureka found that a 9 x 12 area rug could hide up to 87 lbs. of dirt! How much dirt is hiding in your area rug or Oriental rug in Birmingham, AL? This is a good question and the answer could be "much more dirt than you think." Area Rugs and Oriental Rugs can hold lots of dirt and it is hard to get it out unless you have a full-immersion cleaning done on the rug. Without periodic cleanings dirt can stay in your rug and actually cause damage to your rug. Dirt acts like sandpaper on a rug. As hidden dirt buildups, it can prematurely wear out or ugly out a fine Oriental or loose woven rug, if not cleaned. A thorough immersion cleaning and rinsing is healthy and will help extend the longevity of your rug.
Heaven's Best Carpet & Rug Cleaners now offers full-immersion rug cleaning for all types of Area rugs and Oriental rugs. Our multi-step process insures that we will get the dirt out of your rug and restore it to its original luster. We offer Free pick-up and delivery of your rug and a 1 week to 1 ½ week turn-around on returning your rug.
Our process includes the following steps:
1. Pre-Inspection: First, we pre-inspect your rug to assure that it can be cleaned and to determine any areas that need special treatment.
2. Dust your Rug: Next, we lay the rug face down on a grid mat and gently agitate the back of your rugs with a rug duster vacuum in order to remove as much dry dirt as possible. We then flip the rug over and do it again. The dusting process basically beats the dirt out of your rug.
3. Wash Rug: We place the rug in a wash pit and gently agitate the rug with soft brushes and cleaning solutions designed specifically for rugs.
4. Rinse Rug: After thoroughly washing the rug, we rinse it until all soap and dirt are removed.
5. Hand brush Fringe: If the rug has fringe, we hand brush the fringe.
6. Dry Rug: Then, we extract as much water out of the rug before we hang it to dry. We than do a controlled drying of your rug.
7. Vacuum & Groom: Finally, when the rug is dry, we vacuum it and give it a soft grooming so the pile will lift back up.
8. Post Inspection: We give your rug a final inspection and then we roll it up and wrap it to bring back to you.
We highly recommend our In-plant rug cleaning process for the best results for Oriental and woven Area rugs. So, if you don't know how much dirt is in your Area Rug or Oriental Rug in Birmingham, AL, give Heaven's Best a call at (205) 739-1880 for a Free Inspection and Pick-up service. While we are at your home, we can also offer our other services which include carpet cleaning, upholstery cleaning, hardwood floor cleaning and polishing, and tile and grout cleaning. Don't wait any longer to have your Area or Oriental rugs cleaned. Call Heaven's Best Carpet & Rug Cleaners now at (205) 739-1880 for our current specials. At Heaven's Best, we strive to live up to our name "Heaven's Best" every time we clean.

Contact Heaven's Best for a Free Inspection of your Area or Oriental Rug