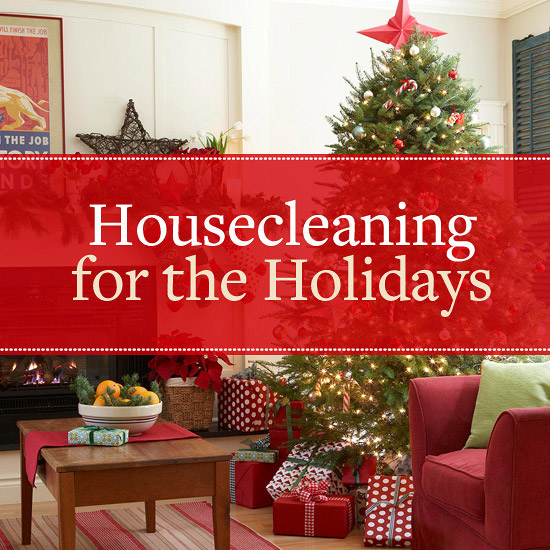 Here is a Holiday Cleaning Checklist from Heaven's Best Carpet Cleaning of Birmingham AL. Work through the list a few items a day. Before you know it, your home will be clean and ready for guests and the holidays!
Put mats and throw rugs at all entryways. This will help prevent dirt from being tracked into your home.
Vacuum carpets, floors and baseboards so you won't have to count dust bunnies among your holiday guests!
Sort and discard old magazines and newspapers. Save a few interesting ones and leave them on a table in the guest room for your company's nighttime reading.
Aim high! Add a telescoping dust wand to your cleaning supplies so it's easy to banish cobwebs in corners and around ceiling fixtures.
Wash all your bed spreads, linens and bedding.
If your pets prefer the furniture to the floor, cover their favorite upholstered pieces with attractive, washable throws that can be whisked out of sight when guests arrive.
Put a container of pop-up disposable wipes next to every bathroom and powder room sink. Encourage family members to use them every time they turn the tap water off.
If you are going to be doing a lot of holiday cooking and entertaining, make sure all your aprons, potholders, dish clothes and dish towels are washed. Consider buying a new set of potholders and towels if your look old and ragged.
If you don't have a small hand-held vacuum, this might be the time to invest in one. If you do, make sure it is in a handy location to quickly pull out and vacuum up messes.
To avoid beverage rings on your wood or glass top furniture, keep coasters out in plain sight.
Clean out the refrigerator to make room for holiday goodies. Remove the contents, checking expiration dates, and discarding anything whose time is up. Clean the shelves and wipe down bottles and jars before returning items to the refrigerator.
Make sure you have a bottle of spray cleaner like Windex or Fantastic and paper towels to quickly clean counters. When your counter tops gleam, it makes your kitchen look cleaner.
Make sure you have plenty of laundry detergent so you don't run out when guests arrive.
Give yourself a holiday present! Hire a professional maid service and a professional carpet and floor cleaner cleaning service either before your guests arrive to help you get ready, or after your guests leave to clean up the mess.
Heaven's Best Carpet & Rug Cleaners can help make your carpets, floors and upholstery look spic-n-span clean prior to your guests arriving. Along with making them look clean, we also will make your house smell clean with our FREE CITRUS DEODORIZER. And, if you don't have time before the holiday to schedule a cleaning, let us help afterwards with cleaning up the mess.
Keep this Holiday Cleaning Checklist from Heaven's Best of Birmingham AL handy for getting ready for holiday guests. And, if you need help cleaning your carpets, floors or upholstery give Heaven's Best a call at (205) 739-1880.

Contact Heaven's Best to schedule a Carpet, Floor or Upholstery Cleaning