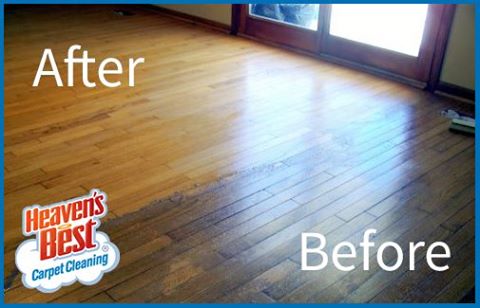 At Heaven's Best Carpet & Rug Cleaners, we clean carpet and area rugs throughout the Birmingham metro area, but did you know we also clean Hardwood Floors? YES! Heaven's Best also cleans, polishes and waxes hardwood floors all over Birmingham, AL. We use a multi-step process to clean your hardwoods which brings back the natural luster and shine of your Hardwoods. This process can help to diminish the scratches an imperfections in your hardwoods, so they will look almost like new. Here is a summary of the steps we take to clean Hardwoods:
Commercial Vacuum - We vacuum your floors using our very powerful commercial backpack vacuum to get all the loose dirt and debris off your floors.
Clean Hardwoods - Next, we clean your Hardwoods using our Heaven's Best Hardwood Floor Cleaning Solution which is specifically designed to clean Hardwoods. This is a product that will not harm your hardwoods but will thoroughly clean them while also being gentle.
Buff & Polish – After we finish cleaning, we buff out your Hardwoods using different textured pads and a floor buffer. This helps to fill in scratches and minor imperfections in the Hardwoods, and smooths out the wood.
Wax - Finally, we apply a protective wax coating. You can choose from either a High-gloss shine or a Matte, Semi-gloss shine. This will make your hardwoods look amazing!
So, if your hardwoods are looking dull and dirty, why not give Heaven's Best a call at (205) 739-1880. Don't forget to ask about our current Hardwood Special. At Heaven's Best, we strive to live up to our name "Heaven's Best" every time we clean. Remember, Heaven's Best cleans, polishes and waxes Hardwood floors in Birmingham, AL. Call Heaven's Best now at (205) 739-1880.

Contact Heaven's Best to schedule a FREE ESTIMATE on a Hardwood Floor Cleaning