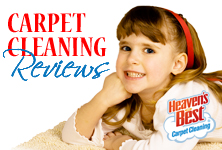 If you are looking for a professional carpet cleaner who has great reviews to clean your carpets in the Birmingham AL metro area, you should try Heaven's Best Carpet and Upholstery Cleaning. Our customers love us and they are letting others know by reviewing us online. Here are some of the Heaven's Best Excellent Carpet Cleaning Reviews in Birmingham, AL that our customers having been posting online.
Steve and his crew are truly Heaven's Best when it comes to carpet and upholstery cleaning in the home and office. His attention to detail and efforts to complete a beautiful job are second to none. We wouldn't consider the competition after the stellar service we received from Heaven's Best. After they left we were definitely convinced that Heaven's Best is the standard, by which we should compare."
"Couldn't be happier with the service. Friendly, professional, timely... There is not one negative thing I could say. Would highly recommend to everyone."
" These guys are absolutely flawless! They completely made my carpet look like new again. After rescue dogs and a toddler being very unkind to the carpet I didn't think they would be able to do anything but make it smell better. It literally looks brand new, Smell is gone, Dried so fast. I will be using them again for our hardwoods and tile. Absolutely PERFECT!"
"Heaven's Best technicians did a fantastic job of cleaning our carpets. They did such a great job that I'm having them come back to do our wood floors. Their prices are reasonable and the results are above average."
"Steve and his helper cleaned our carpets this week and I couldn't be more pleased with the way the carpets in each room looked, and the professional manner in which the work was performed. I will definitely use Heavens Best Carpet Cleaning Service again, and recommend them to all my friends. The carpet looks brand new and that's saying something since it is over fifteen years old."
So, if you are looking for a Carpet, Floor or Upholstery Cleaner that gets 5-star reviews, don't take our word for it, take our customers word. Check out more of our Heaven's Best Excellent Carpet Cleaning Reviews in Birmingham, AL here. And call Heaven's Best today at (205) 618-9150 to schedule a carpet, floor or upholstery cleaning.

Contact Heaven's Best to schedule an Appointment