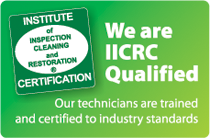 Heaven's Best Carpet & Rug Cleaners is a Professional IICRC Certified Carpet Cleaning Company in Birmingham, AL that offers a wide range of top quality carpet cleaning services to home owners, as well as business owners. Their Eco-friendly cleaning approach is not only safe for the environment, but also for your family, your employees and your customers. In order to fulfill all your carpet cleaning related needs, they make use of the latest technology and top of the line equipment. Heaven's Best is also an IICRC (Institute of Inspection, Cleaning and Restoration Certification) certified firm, which is the industry standard and means that we are bound to provide reputable work that meets the highest industry standards. If we do not keep our commitment, we would not be able to display the IICRC logo. Heaven's Best proudly displays the IICRC logo and offers exceptional service. They strive to live up to their name "Heaven's Best" every time they clean. And, their customers' love them for it.
Recently, Stephen Mobley, owner of the company announced their Summer Carpet Cleaning Special of 3 Rooms of Carpet Cleaned for only $87. This offer applies to rooms up to 200 Sq. Ft. and includes their thorough multi-step cleaning process. Stephen was excited to make this offer available to residents in Jefferson and Shelby counties of Alabama. So, if you haven't had your carpets cleaned in a while, now is the time!
This leading carpet cleaning company offers a wide range of other services that include:
Tile and Grout Cleaning & Sealing
Hard wood Floor Cleaning, Polishing & Waxing
Upholstery Cleaning
Commercial Carpet Cleaning
Area Rug Cleaning
Mattress Cleaning
Drapery Dry Cleaning
VCT Tile Stripping and Waxing
To learn more about their carpet cleaning offers, please fill out the form below, or give Heaven's Best a call at (205) 739-1880.
About Heaven's Best Carpet & Rug Cleaners
Heaven's Best is becoming a familiar name in the carpet cleaning industry throughout the US. In Birmingham, AL, the owner, Stephen Mobley is a retired USMC veteran who brings the same pride he had in the military to his carpet cleaning business. Heaven's Best specializes in both residential and commercial carpet cleaning, as well as mattress, rug, upholstery, tile and grout and hardwoods. They are a proud provider of all-natural green cleaning services and low moisture carpet cleaning. They believe in customer satisfaction and genuinely care about the health and protection of their clients. That is why their cleaning solutions are environmentally safe. This means they are safe for you, your children and your pets. All their cleaning services are offered at a cost-effective price and all their services are of high quality to meet the needs of any business or home.
Heaven's Best Carpet & Rug Cleaners is a Professional IICRC Certified Carpet Cleaning Company in Birmingham, AL. You can give them a call at (205) 739-1880 to schedule a cleaning or get a FREE ESTIMATE.

Contact Heaven's Best to schedule an appointment or for a FREE ESTIMATE