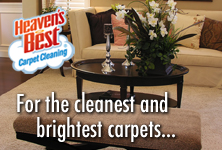 If you are looking for an Expert Carpet Cleaner in Birmingham AL, Heaven's Best Carpet and Rug Cleaners are the ones to call. We provide professional carpet, upholstery, and floor cleaning throughout the Birmingham, AL metro area.
The Heaven's Best Franchise was established in 1983 and has grown to be an international carpet cleaning company. Stephen Mobley purchased a Heaven's Best Franchise back in 2012, so he could provide this excellent cleaning service to customers in Jefferson and Shelby Counties of Alabama. The reason Stephen chose Heaven's Best is because it was a different type of carpet cleaning, a low-moisture carpet cleaning that didn't take days or even hours to dry. Heaven's Best uses a unique process that will thoroughly clean your carpet but it will dry much quicker than others, actually in about 1 hour! We love that we can provide this service in Birmingham. It allows our customers to get on with their lives and activities without having to wait for their carpets to dry. So, if you have a party planned, you will be able to have your carpets cleaned in the morning and walk on them in the afternoon.
Heaven's Best cleans both residential and commercial floors, and we have the best rates in Birmingham. Our services include Carpet Cleaning, Hardwood Floor Cleaning, Sofa, Couch & Loveseat Cleaning, Upholstery Cleaning, Tile & Grout Cleaning, VCT Tile Stripping and Waxing, Scotch guard & Fabric Protection, Minor Carpet Dying & Repair, Spot & Stain Removal, Pet Urine & Odor Removal, Red Dye Removal, Deodorizing & Sanitizing, and Mattress Cleaning. We service all locations in the Birmingham, Alabama metro area including: Chelsea, CenterPoint, Trussville, Leeds, Pelham, Alabaster, Calera, Hoover, Homewood, Cahaba Heights, Mountain Brook, Vestavia, , Montevallo, Helena, Westover, Wilsonville and all cities in Jefferson & Shelby County, Alabama.
When you call Heaven's Best Carpet and Rug Cleaners, you will get great rates, along with excellent cleaning services, and superb customer service. We promise to leave your floors heavenly clean! If you are looking for Expert Carpet Cleaning Services in Birmingham AL, Contact Heaven's Best now for our Current Specials at (205) 618-9150. Your carpets will look and smell great! Use the form below to contact us today.

Contact Heaven's Best for Expert Carpet Cleaning Services