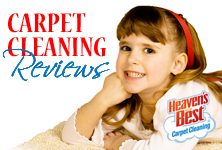 If you are looking for a Carpet Cleaner with Excellent Carpet Cleaning Reviews in Birmingham AL, you will find Heaven's Best Carpet and Upholstery Cleaning to be a top rated company. Heaven's Best has numerous 5 star reviews on Google. Here is what some of our customers are saying about us:
"He did such a great job that I'm having him come back to do our wood floors."
"Steve did a fantastic job of cleaning our carpets."
"Removed entire cup of coffee stain. Amazing. Dried quicker than any other cleaning service from other companies."
"Arrived on time, did an amazing job on our carpets -- removing a stain instantly, that I had battled for four years! Excellent service and so easy-going and friendly. All for an awesome price!!"
"Quick, and complete cleaning of carpet in home office. Remove old coffee/soda stains that had been there for months. Carpet dried quickly so we could use the room without hours of wait. Courteous staff. Will use again. Recommend highly."
"Couldn't be happier with the service. Friendly, professional, timely... There is not one negative thing I could say. Would highly recommend to everyone."
These are just a few of the comments our customers have been saying about Heaven's Best Carpet and Upholstery Cleaning. If you are not sure who to hire to clean your carpets, you can't go wrong with Heaven's Best. We love our customers and they really seem to like us, or they would not be talking about us to all their friends and neighbors. If you are in need of carpet, floor or upholstery cleaning, call Heaven's Best Carpet Cleaning today at (205) 618-9150 to schedule an appointment. Don't use a carpet cleaning company with no reviews or bad reviews; contact one like Heaven's Best with Excellent Carpet Cleaning Reviews in Birmingham AL. Your carpets, upholstery and floors will look and smell great! We promise you will be glad you took the advice of others.

Contact Heaven's Best to schedule an Appointment