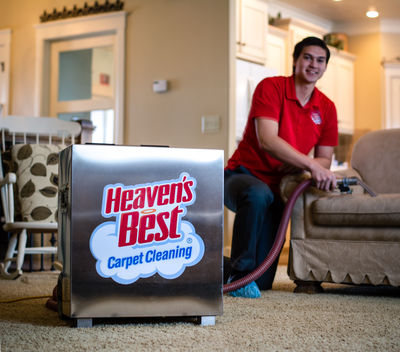 Most people know that you can steam clean upholstery – but did you know that you can also dry clean upholstery? Let us tell you about dry cleaning upholstery in Birmingham, AL 35216. It is not uncommon for furniture to be upholstered with delicate fabrics like leather or silk. These must never be steam cleaned. The water, heat, or combination of the two can damage the furniture beyond repair.
Your furniture's tag should explain the proper cleaning procedure for the fabric it's upholstered in. If the tag states "dry clean only" or display an "S," that piece of furniture should never be cleaned with water. Dry cleaning upholstery is a pretty straightforward procedure and can, in some cases, be less time consuming than steam cleaning. Few professional carpet cleaning/upholstery cleaning companies can offer this specialized service, but Heaven's Best can now dry clean all of your delicate furniture. We have a special machine that uses a dry solvent to lift any stain from your upholstery.
Most dry-cleaning services are very expensive, but at Heaven's Best we make any cleaning affordable. For only $129 Heaven's Best can dry clean your sofa while carefully protecting the upholstery and leave it looking new again! We can also care for, and dry clean your love seats, ottomans, accent chairs, etc.
If you're looking to have your dry-clean only upholstery cleaned, Heaven's Best is the BEST choice! We take pride in every cleaning, treat your furniture like it's our own and strive to make sure you are always happy with the outcome. Call Heaven's Best today and schedule an appointment for dry cleaning upholstery in Birmingham, AL 35216– and while you're at it, don't forget to ask about our carpet cleaning, tile and grout cleaning or hardwood cleaning services as well! Call us at (205) 739-1880 or fill out the form below and we will be happy to contact you!

Contact Heaven's Best to schedule a Carpet, Floor or Upholstery Cleaning