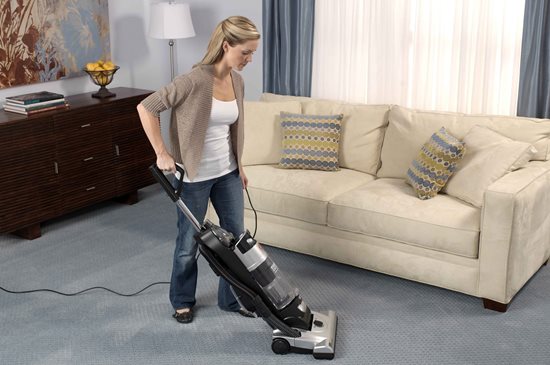 Heaven's Best Carpet & Rug Cleaners receives a lot of questions from allergy sufferers about the quality of air in their homes or offices and the best way to control their allergies. Does vacuuming and carpet cleaning really help diminish allergy symptom in Birmingham, AL? We often tell our customers to vacuum often in order to minimize the dust and allergens that are in the air in their homes and offices. But, sometimes vacuuming may do less good than we hope. Although vacuuming can help allergy sufferers, a new study refutes this claim. This study claims that vacuuming may actually release more dust, dander, and bacteria into the air than it is actually removing. This study; done by researchers in Australia, shows that some vacuums will actually pull the particles in your carpet out and then release them back into the air, rather than capturing them in the vacuum. The study was done with several vacuums that ranged in brand and age. The vacuums that released the most dust and bacteria back into the air were the older, cheaper models. However, all the vacuums released some dust/bacteria particles back into the air; it's just that the newer ones did better at limiting the amount that was released.
This doesn't mean it's time to stop vacuuming. If you're happy with your carpet, vacuuming several times a week is one of the best things you can do to reduce air borne particles and improve indoor air quality. There are other things you can do as well. This includes cleaning under and behind furniture, washing throw rugs in hot water, and if your allergies are severe, replacing the carpet with wood floors. As a note on hardwood floors, this doesn't mean there will be less dust in the room, it will just be easier to remove the dust. Hardwood floors though have to be swept more often than carpet needs to be vacuumed to keep the dust at an acceptable level for allergy sufferers. Carpet does hold dust, whereas hardwood will release dust into the air when hit by air from the wind or even just people walking by.
So, if you have an older or cheaper vacuum, it may be time to upgrade to a newer model. There are many new vacuums on the market that do not release the dirt back into the air and can improve your allergies and indoor air quality. Many newer vacuums have HEPA filters that hold in more of the dirt and dust. If you are in the market for a new vacuum, contact Heaven's Best Carpet and Rug Cleaners for advice on the best makes and models. We have done extensive research on vacuums and can guide you on the best vacuums and the best values. If you have a good vacuum that does not spread dirt and dust back into the air when you vacuum, it will definitely help with allergies.
Along with vacuuming with a good vacuum, the Carpet and Rug Institute recommends having your carpets professionally cleaned at least once a year to remove dust, dirt and allergens. Why not give Heaven's Best a call at (205) 739-1880 to schedule your yearly cleaning? Your air in your home will be cleaner and fresher. Vacuuming and Carpet Cleaning really can help allergy sufferers in Birmingham, AL.

Contact Heaven's Best to schedule a Professional Carpet Cleaning