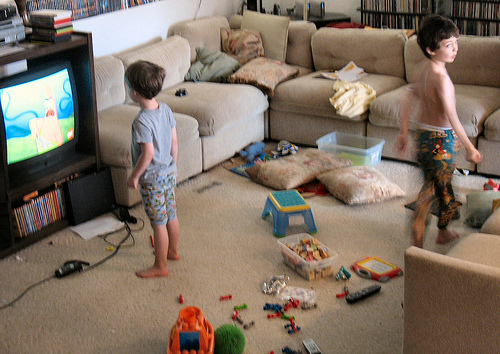 Yes, it is time for Spring Cleaning! Here is a Simple Checklist with Cleaning Tips for How to Spring Clean your Living Room or Family Room in Birmingham, AL 35243. First, grab a laundry basket and go around the room. Put everything that does not belong in the Living/Family Room into the basket. You can then put the items back where they belong. Once you have everything out of the room that does not belong there, follow the following steps to thoroughly clean the room.
Dust ceiling fans – Any easy way to do this is to take a pillow case and put it over each blade and slowly pull it back bringing all the dust with it.
Dust crown molding, wall corners, and floor molding – If you have a wand attachment on your vacuum, get it out and use it.
Dust lamps and vacuum the lamp shades
Dust and polish wood furniture
Dust edges of wall hangings, mirrors, and pictures
Use vacuum attachment to clean the window sills
Dust electronics
Disinfect door knobs and light switch plates
Disinfect remote controls and gaming devices
Wash windows
Vacuum under the furniture and under cushions
Vacuum entire room including corners with vacuum attachment
Once you get done with all these task, give Heaven's Best Carpet and Rug Cleaners a call at (205) 739-1880. We can professionally clean your carpets and your upholstery, so your living room or family room will look like new again. Our low moisture carpet cleaning uses less water and dries fast, in about 1 hour, so you can get on with all your family activities fast. And, our all-natural citrus based cleaning solutions are environmentally safe as well as safe for you, your kids and your pets. And, we have a great $129 Upholstery Cleaning Special, so we can clean your sofa and love seat and having them looking fresh and new again. If you have Dry Clean Only upholstery, not to worry! We can clean it too! So, get your Spring Cleaning started today! Follow the Cleaning Tips listed above for How to Spring Clean your Living Room or Family Room in Birmingham, AL 35243. Then, give Heaven's Best a call at (205) 739-1880 to finish the cleaning with our professional carpet and upholstery cleaning services. Call us now or use the form below to request an appointment.

Contact Heaven's Best to schedule a Professional Carpet or Upholstery Cleaning