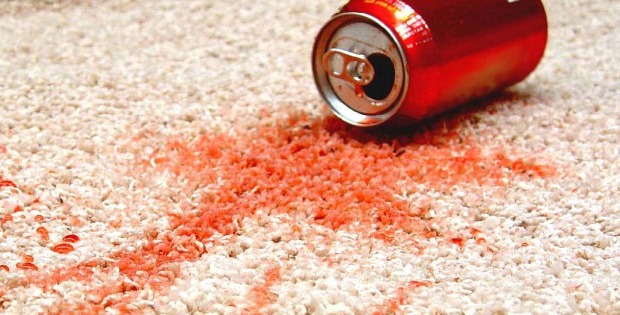 If you have carpet in your home and you also have kids and sodas, it is very likely that you will end up with soda on your carpeting. So, what do you when you find out this has occurred. First thing, don't panic! This Carpet Cleaning Tip will tell you How to get Soda Stains out of your Carpet in Birmingham, AL.
Here is one good method to remove soda stains from your carpet:
As with any stain, the first thing you should do is try to absorb as much of the liquid as possible as soon as you discover the stain. The quicker you can get to the stain and absorb the liquid the better the results and the easier it is to clean up.
Next, create a gentle cleaner. In a bowl, mix ¼ teaspoon non-bleach detergent with lukewarm water. Use this mixture to blot the stain.
In another bowl, mix white vinegar with water in a ratio of 1 to 2. So, if you put 1 cup of vinegar, you should add 2 cups of water.
Using a clean cloth, dip it into the detergent mixture. Pat the soda stain with the cloth, and gently blot the stain. Do this several times.
Next, use a dry cloth to pat the soda stain until it feels dry.
Now, take a separate clean cloth and dip it into the vinegar solution. Use this cloth to cover the entire soda stain. Then place a heavy object over the cloth and leave it on for 15 minutes.
Remove the heavy object and the stain should be gone. If the spot is still damp, blot the stain with a clean cloth to finish drying it. If the stain is still visible, repeat the process again. If this doesn't work, give Heaven's Best Carpet and Rug Cleaners a call at (205) 739-1880. We can save you the hassle and get the stain out without you having to go through any of these steps. We have stain removers for just about any stain you have. So, if you have time, try this Carpet Cleaning Tip first for How to get Soda Stains out of your Carpet in Birmingham, AL. And, if you don't want to bother with DIY solutions, give Heaven's Best a call. We have all the tools and cleaning products to make your carpets look like new. Call Heaven's Best at (205) 739-1880 to learn about our current carpet cleaning specials. Or, fill out the form below.

Contact Heaven's Best for our Current Carpet Cleaning Specials