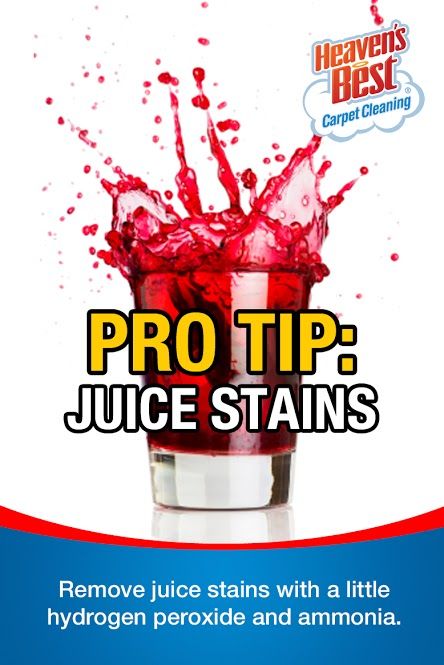 If you have kids and carpets, it is inevitable that you will have juice stains on your carpet. This Carpet Cleaning Tip tells you how to remove Juice Stains from Carpets in Birmingham, AL. This simple procedure should work on just about any kind of juice stain you encounter.
What you will need:
Hydrogen Peroxide
Household Ammonia
White Vinegar
Here is the Simple Procedure:
1. Mix 1/2 cup hydrogen peroxide with 1 teaspoon household ammonia. Apply hydrogen peroxide solution, let stand 2 to 3 hours under several clean white towels with weight on top.
2. Repeat application of hydrogen peroxide solution until clean.
3. Blot dry by standing or kneeling on several white paper towels.
4. Apply white vinegar (undiluted), but only after the stain is removed.
Don't let Juice stains in your carpets get you down! Try this simple Carpet Cleaning Tip for How to Remove Juice Stains from Carpets in Birmingham, AL. And remember to schedule to have a professional carpet cleaning once a year. Call your local Heaven's Best Carpet and Upholstery Cleaners at (205) 618-9150. We also can help get out those nasty Juice Stains if you are still having difficulty with them. Call Heaven's Best today at (205) 618-9150.

Contact Heaven's Best for Spot and Stain Removal Help or a Professional Cleaning