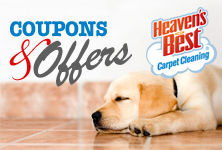 Are you looking for true Carpet Cleaning Savings and Deals in Birmingham AL? You've come to the right place! Save time and money by having your carpets cleaned by Heaven's Best Carpet & Rug Cleaners. We at Heaven's Best know you are busy and how valuable your time is, that is why we make having your carpets cleaned as simple and pleasant as possible. We use a low-moisture process that dries quickly so you can get back to your activities in no time. And, our technicians work quickly but thoroughly from the time they show up until they leave. They will treat you and your home with respect and professionalism.
When you call Heaven's Best, you will receive a very thorough cleaning. We go through a multi-step process to get your carpets as clean as possible. We start with a good strong commercial vacuuming. Next, we spray your carpets with a pre-spotter and pre-spray that immediately starts to loosen and dissolve the dirt and grime in your carpet. We then apply our unique Heaven's Best Cleaning Solution which is a combination of our all-natural carpet cleaning solution and our citrus booster. This is gives a powerful punch to dirty carpets. Next, we give all of our customers our FREE CITRUS DEODORIZER. This is an all-natural product that will make your home smell clean and fresh. Finally, we groom your carpets by raking them to stand the fibers back up. This helps the carpet dry quicker.
Our low-moisture process uses less water than other carpet cleaners, so your carpets won't take days or many hours to dry. They will be dry in about 1 hour. At Heaven's Best, we value your time. And we have an awesome 3 Room Special that won't break the bank. So, don't waste your time and money on carpet cleaners that will disrupt your life. If you are looking for Carpet Cleaning Savings and Deals in Birmingham AL, call Heaven's Best Carpet & Rug Cleaners at (205) 739-1880 for a stress-free carpet cleaning experience. You will save both time and money!

Contact Heaven's Best for our Current Specials and Deals