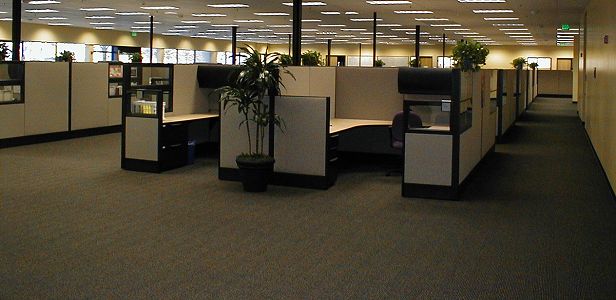 If you are in need of Carpet Cleaning at your Office or Business, Heaven's Best Carpet & Rug Cleaners are here to help. We offer the Best Commercial Carpet Cleaning Rates in the Birmingham, AL metro area.
Cleaning Commercial Carpeting is different than Cleaning Residential Carpet because of multiple factors. First, you have to consider the type of carpet being cleaned. Commercial carpet is made differently than Residential carpet. Have you ever looked close at the carpeting in your home versus the carpeting in your business? If so, you would have noticed that your home has much plusher, thicker carpeting than your business. This is because they are made of different types of materials using different methods. The carpeting in businesses is usually a short pile, glue down carpet made of olefin.
Olefin fiber is a synthetic fiber made from a polyolefin, such as polypropylene or polyethylene. It is used in wallpaper, carpeting, ropes, and vehicle interiors. Olefin's advantages are its strength, colorfastness and comfort, its resistance to staining, mildew, abrasion, sunlight and its good bulk and cover.
Because of these traits, olefin is an excellent substance for commercial carpeting. But, along with being a very durable carpet material, it is also installed differently than residential carpeting. Whereas, residential carpet usually has a nice thick pad underneath to give it extra cushion, commercial carpet is usually glued directly to the subfloor. Therefore, it should not be cleaned the same way residential carpeting is cleaned.
So, you may want to be a little more diligent about who you call to clean your commercial carpets. Most residential carpet cleaning companies us steam cleaning to clean the carpets in your home, but traditional steam cleaning or hot water extraction should not be used to clean commercial glue-down carpet. The hot water and steam method of cleaning puts too much pressure and water into the carpet and can lead to delamination of your carpeting. If this happens, your carpet could become loose, stretched out, or puckered. Loose carpet, or wrinkles in the carpet can cause a trip hazard in your facility, as well as the need for replacement much sooner than you may have expected. To prevent this, make sure you use a Carpet Cleaner that specializes in cleaning Commercial Carpets.
Heaven's Best Carpet & Rug Cleaners are an IICRC firm that specializes in both Residential and Commercial Carpet Cleaning. We are familiar with the difference between the two types of carpet and we know how to clean both. Our low-moisture, encapsulation method of cleaning offers the perfect technology for cleaning commercial Carpeting.
When you get ready to have your business carpets cleaned, call Heaven's Best Carpet & Rug Cleaners in Birmingham at (205) 739-1880 and in Chelsea at (205) 618-9150. We have great rates and flexible schedules so we can clean at a time that is convenient for you and your staff. Our process is quiet, as well as low-moisture so you will be able to get back to business quickly. And, don't forget that Commercial carpeting may need to be cleaned more often than once a year, especially if it gets heavy traffic. Don't wait too long to have your carpets cleaned, call Heaven's Best Carpet & Rug Cleaners now at (205) 739-1880 for a FREE ESTIMATE. Heaven's Best provides excellent services and the Best Commercial Carpet Cleaning Rates in the Birmingham, AL metro area.

Contact Heaven's Best for a FREE ESTIMATE on Business Carpet Cleaning