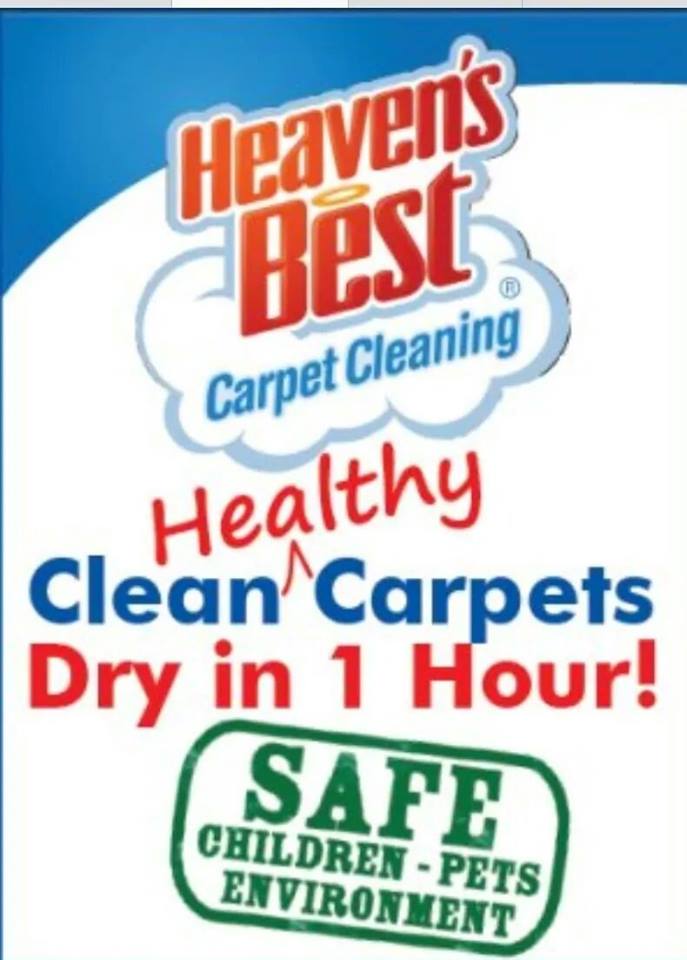 Heaven's Best Carpet & Rug Cleaners is a professional carpet, upholstery and floor cleaning company serving the Birmingham, AL metro area. Here are 7 Reasons why Heaven's Best Carpet & Rug Cleaners is the Best Carpet Cleaner in Birmingham, AL
1. Low-moisture Cleaning Process
Heaven's Best Carpet & Rug Cleaners use less water to clean your carpets, so most carpets are DRY IN ONE HOUR! You don't have to wait hours or even days for your carpets to dry. This means you can get on with your day and your life in no time after a Heaven's Best carpet cleaning. And, with Heaven's Best unique low-moisture process, you will not have to worry about a moist carpet all day or mold or mildew developing in your carpet pad.
2. Environmentally Safe
Heaven's Best uses cleaning solutions that are environmentally safe, all natural, and organic. Along with being safe, our products clean very well and they have a clean fresh citrus scent. After a Heaven's Best Carpet Cleaning you can safely sit on your carpet without worry. All of our cleaning products are safe for you, your family, your pets and the environment.
3. FREE CITRUS DEODORIZER
With all of our Carpet Cleanings, we include FREE CITRUS DEODORIZER, at no extra charge. Other carpet cleaners charge extra for every little thing they do, including deodorizer. At Heaven's Best, we don't! Our Citrus Deodorizer is just part of our multi-step cleaning process. We believe you want you carpets to look and smell clean, so we give you FREE CITRUS DEODORIZER with every cleaning.
4. IICRC Trained Carpet Technicians
Our Carpet Cleaning Technicians are trained and tested through the IICRC (Institute of Inspection, Cleaning and Restoration Certification). The IICRC provides industry standards for all carpet cleaners throughout the United States. They offer in-person training sessions which include hands-on training, testing and certification. Our technicians have attended these trainings to learn the newest technology for cleaning carpets and upholstery. They have been tested and certified, so they are equipped to choose the right cleaning solutions and the best equipment for each job. All of this adds up to expert care for your carpets. Our Heaven's Best technicians take the utmost care to get your carpets thoroughly cleaned and groomed in a manner that will maximize the life of your carpets.
5. Veteran-owned & Family-run
Heaven's Best Carpet & Rug Cleaners is a veteran owned and locally operated family business. Stephen Mobley and his wife Ann Mobley run Heaven's Best out of their home in Chelsea, AL. After 18 years of service in the US Marine Corps, Stephen retired and opened up Heaven's Best Carpet & Rug Cleaners here in Birmingham. Stephen was impressed by how well Heaven's Best cleaning products worked, as well as how the franchise conducted business. They exhibited the same values that he had in the Marine Corp; honesty, integrity and dedication. Heaven's Best is committed to providing an excellent service as well as supporting our local community. Our objective is to live and work by the golden rule of doing unto others as we would like them to treat us. This is why when you invite us into your home to clean; we treat you, your home, your children and your pets with respect and courtesy. We also strive to provide superior service every time we clean. Our goal is to live up to our name "Heaven's Best" every time we clean.
6. Great Low Rates
Because we are a small family run company, with low overhead, we are able to provide great low rates. You will find that our superior service plus our low rates make us the best value for your money throughout the Birmingham, Al metro area. But, don't take our word for it; check out our 5 Star Google reviews.
7. Guarantee
If all this is not enough, you can rest assured "we put our money where our mouth is." We don't just say it, we guarantee our work. If a spot or stain that we cleaned comes back within 30 days, we will come back and clean it again, no questions asked! Heaven's Best stands behind our work, because we want you to have a "Heaven's Best" Cleaning as well.
These are just 7 reasons why Heaven's Best Carpet & Rug Cleaners is the Best Carpet Cleaner in Birmingham, AL. Why not call us today to schedule a Carpet, Upholstery or Floor Cleaning at (205) 739-1880? We believe you will be so pleased, you will tell all your friends and family about Heaven's Best. Along with a great value for your money, we also have excellent customer service. Call Heaven's Best now at (205) 739-1880, or fill out the form below to contact us.

Contract Heaven's Best to schedule a Carpet, Floor or Upholstery Cleaning