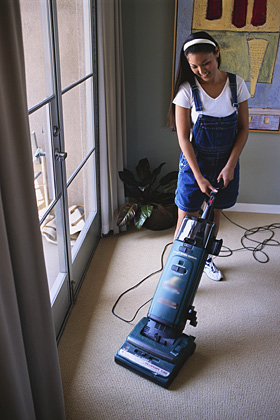 Vacuuming is where most people start when maintaining their carpeting. That, then, is where we'll start this article about 4 Simple Tip for maintaining Carpets in Birmingham, AL. But, it isn't where the article will end. In order to remove stains, Heaven's Best Carpet & Rug Cleaners recommends regular carpet cleanings.
For now, though, here are the basics:
Vacuuming - Carpets should be vacuumed at least once a week. They should be vacuumed even more often if you have high traffic areas. Frequent vacuuming prolongs the life of your carpet by preventing a buildup of gritty particles that can cut carpet fibers.
Use your Crevice Tool - Every few weeks, take a little extra time and use your crevice tool for cleaning around baseboards and radiators and in other hard-to-reach places.
Sprinkle Baking Soda – An easy way to freshen up your room and help with odors is to sprinkle baking soda down on your carpet before vacuuming. Let the baking soda sit for at least a half hour and then vacuum up. (You can also sprinkle baking soda in your vacuum cleaner bag to freshen it up, but if you sprinkle it on the floor and vacuum, it does the same thing.)
Professional Carpet Cleaning – Vacuuming is an excellent way to maintain your carpets, but you should also have your carpets professionally cleaned at least once a year. Carpet manufacturers, as well as the Carpet & Rug Institute recommend cleaning your carpets at least every 12 months. If you have children or pets, they recommend having them professionally cleaned more often.
So, make sure you vacuum and if you are due for a professional cleaning, give Heaven's Best Carpet & Rug Cleaners a call at (205) 739-1880. Your carpets will thank you! And, your home will smell clean and fresh after a Heaven's Best Carpet Cleaning. Make sure you follow these 4 Simple Tips for maintaining your Carpets in Birmingham, AL. And, call (205) 739-1880 now to schedule an appointment. Heaven's Best also cleans rugs, upholstery, tile and grout, VCT tile and hardwoods.

Contact Heaven's Best to Schedule a Professional Carpet, Rug, Upholstery, or Floor Cleaning