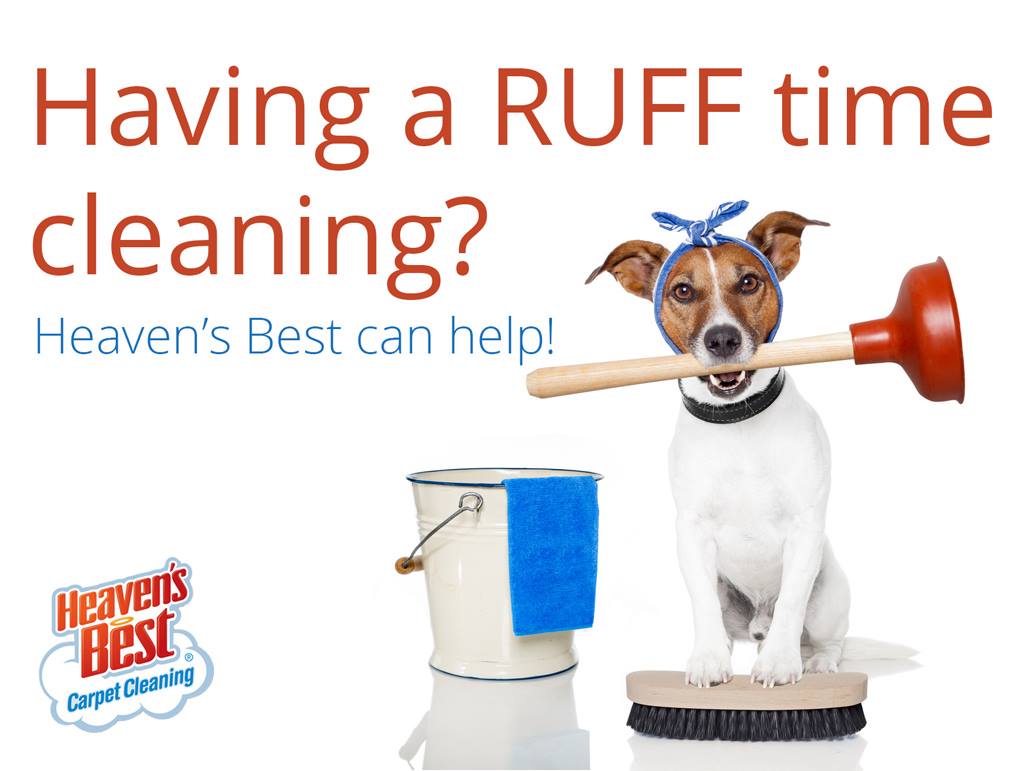 Are you having a Ruff time cleaning? Heaven's Best Carpet & Rug Cleaners can help. Here are just 4 Reasons Why Heaven's Best is the Best Carpet Cleaner in Hoover, AL.
1.Low-moisture Cleaning Process
Our Heaven's Best Cleaning Process uses all-natural citrus based cleaning products and less water than other carpet cleaners. The IICRC (Institute of Inspection, Cleaning and Restoration Certification) highly recommends that for carpets to be cleaned properly, they should be dry in 6-8 hours. If carpets are not dry within at least 24 hours, there is a possibility of microbial growth and after-cleaning odors. So, it is very important for carpets to dry quickly. At Heaven's Best we take this seriously and that is why we use a low-moisture process. With our process, you won't have to wait for days or even hours for your carpets to be dry, the will be dry in about 1 Hour! This means you can get on with your life and your activities in no time after a Heaven's Best Carpet Cleaning.
2.Great Low Rates
Heaven's Best is a small family run company, started by Stephen Mobley a retired USMC veteran. Because we are small, we have low overhead, which means we are able to provide great low rates. You will find that our superior service plus our low rates make us the best value for your money throughout Hoover and the Birmingham, Al metro area.
3.FREE CITRUS DEODORIZER
One of the perks of a Heaven's Best Carpet Cleaning is that we provide our customers with FREE Citrus Deodorizer with every carpet cleaning. Other companies charge extra for deodorizer, not Heaven's Best. Instead of charging extra, we include our fresh clean Citrus Deodorizer at no additional charge. Our customers have told us how much they love how their carpets and home smell after we clean, so we always provide our deodorizer for FREE.
4.Guarantee
If this is not enough, you can rest assured "we put our money where our mouth is." We don't just say it, we guarantee our work. If a spot or stain that we cleaned comes back within 30 days, we will come back and clean it again, no questions asked! Heaven's Best stands behind our work and we strive to live up to our name "Heaven's Best" every time we clean.
These are just 4 reasons Heaven's Best is the Best Carpet Cleaner in Hoover, AL. Why not call us today to schedule a Carpet, Rug, Upholstery or Floor Cleaning at (205) 739-1880? And, if these 4 reasons aren't enough, we also have excellent customer service. Heaven's Best Carpet & Rug Cleaners is a professional carpet, upholstery and floor cleaning company serving Hoover and all of the Birmingham, AL metro area. Call Heaven's Best now at (205) 739-1880, or fill out the form below to contact us.

Contact Heaven's Best to schedule a Carpet, Rug, Upholstery, or Floor Cleaning