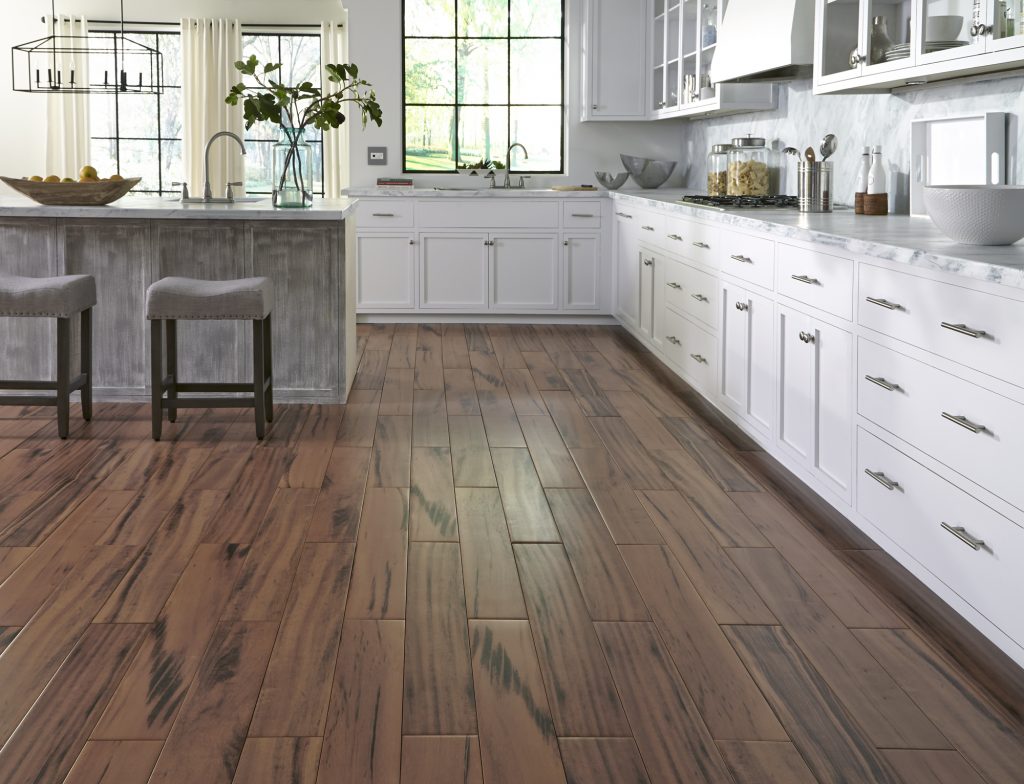 If you have pets, you already know how bad they can ruin carpets and hardwoods. If your carpets aren't too bad, Heaven's Best Carpet and Rug Cleaners can definitely help freshen them up with our professional carpet cleaning services in Birmingham, AL. But, if they are too far gone, it may be time to think about replacement. This article discusses 2 Excellent Carpet Replacement Options from Heaven's Best Carpet Cleaning of Birmingham, AL.
If you are thinking about replacing your carpet for more durable flooring that is totally pet proof, there are many new options available that weren't available only a few years back. Two really good, affordable as well as attractive options are Engineered Hardwoods and Vinyl. Along with being very fashionable, some of these new flooring options are more durable and sustainable than ever. That means they will last longer and take more of a beating than some of the old options.
So, before you make that final decision, here is some info on the hottest new trends that are both durable and attractive. These new flooring chooses will stay timeless over the years:
Engineered Hardwoods:
Real Hardwood floors have always been a very good flooring option, because they look awesome and they are very durable. But, the downside of Hardwood Floors is the cost. They can be very expensive and they also can sustain damage from pet urine and pet claws. The new more affordable but just as elegant looking option is Engineered Hardwoods. They now have Engineered hardwoods that are as durable as real Hardwoods and some are even more durable. Many have warranties that will cover you if they are damaged and they come in just about every design color and texture that you can imagine. Engineered Hardwoods are becoming a preferred alternative to Hardwoods because they are out-and-out durable, and they are a great option for those on a budget.
Vinyl:
This is a synthetic material which looks like wood or stone. You can imagine it as a picture of wood or stone glued to some hard surface. It usually comes in the form of planks and square tiles, and is an affordable option. It is also very easy to install.
Vinyl is becoming one of the top options as it is available in a variety of colors and textures. You can even purchase vinyl now that looks like hardwoods. It is even more durable than Engineered Hardwoods and Hardwoods and it withstands pet urine stains better than any other option. Vinyl flooring is also a great option for bathrooms because the material is very much water-resistant. That is why it is great if you have pets or a new puppy.
Regardless of what flooring option you choose, Heaven's Best Carpet and Rug Cleaners can help you clean and maintain them. Along with carpets, we clean hardwoods, engineered hardwoods, tile and just about any type flooring you have. If you aren't quite ready for new flooring and just need a professional carpet or floor cleaning, give Heaven's Best a call today at (205) 739-1880. We have saved many of our customers from having to replace their carpeting. We can clean your carpets so they will last longer. And, we can also apply Scotch Gard protection to help keep them clean longer. But if you are ready for a change, consider these 2 Excellent Carpet Replacement Options of Engineered Hardwoods or Vinyl from Heaven's Best Carpet Cleaning of Birmingham, AL.
And, if your carpets just need a really good cleaning, give Heaven's Best a call today at (205) 739-1880 to schedule a professional cleaning.

Contact Heaven's Best to schedule a Carpet or Floor Cleaning